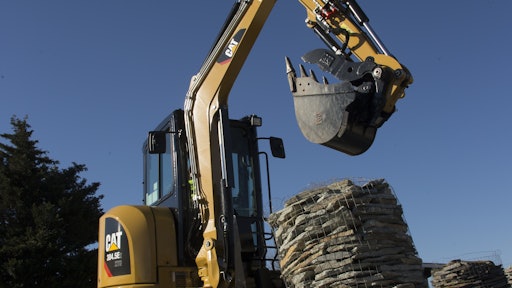 Versatility and flexibility have always been part of the compact excavator's lexicon. Yet, manufacturers continue to push the envelope with each design iteration.
Equipment Today asked several suppliers to comment on select models offered — some of which could fall into their own unique classification of these machines — as well as how these configurations may impact future design and/or model choices.
Increased Utilization by Design
Caterpillar recently introduced the 304.5E2 Xtra Tool Carrier (XTC) and 308E2 with variable angle boom. Jennifer Hooper, marketing development engineer, shares the thought process behind the development of these configurations, the specific customer needs they're intended to address and what may lie ahead for these machines.
Caterpillar is focused on delivering innovative solutions to meet customer needs. The 304.5E2 XTC was developed to increase productivity and save time on the jobsite. The skid-steer loader coupler interface supports load and carry applications and reduces time while backfilling. Additionally, the various work tools such as brooms, forks and trenchers are matched for ultimate performance.
[VIDEO] Cat 304.5E2 XTC Offers Extra Advantage with Tool Carrier Capabilities

The 304.5E2 XTC is ideal for many applications including landscaping, utilities and road construction. Dependent upon the work tool on the skid-steer coupler interface, operators can configure the machine to meet their particular need. This may include loading tree ball roots in an MP (multi-purpose) bucket, moving a pallet of brick or stone on forks or digging utility trenches. Additionally, management of transport through utilization of a single machine with multiple functions reduces overall operating costs.
[Video] Cat 304.5E2 XTC Mini Excavator Working with Multi Purpose Bucket

The introduction of the XTC machine allows customers to do more with the machine and be more productive. As the machine is utilized fully in the market, we will work alongside our dealers and customers to assess other models to offer with the XTC solution. As a result of the performance requirements — including lift capacity, stability and travel — it is likely XTC will only be introduced on those machines greater than 4 metric tons.
The variable angle boom (VAB) configuration on the 308E2 has been introduced to provide increased working range in confined spaces. The 308E2 VAB may be used in any location that requires a broad working range in a confined area. The variable angle boom can be positioned to work closer to the machine, and achieve greater vertical reach and better clearance when truck loading.
[VIDEO] Cat Adds Variable Angle Boom Configuration to 308E2 Mini Hydraulic Excavator

Ultimately, the aim of the mini-excavator operator is to do more with less. Both the XTC and VAB meet this critical customer requirement through versatility and accessibility. Both models offer added value through delivering increased productivity and operational efficiency.
The introduction of the XTC and VAB configurations allow customers to experience the limitless versatility of mini-excavators. Across the globe operators use the machine in various ways to work within the constraints of geography and terrain, limited space and site access, as well as application-specific lift, dig and load requirements. The increase in the use and versatility of mini-excavators is a trend that will continue as best practices are shared in machine operation, work tool integration and technology adoption.
Electrifying the Mini Market
IHI/Compact Excavator Sales introduced its first electric-powered compact excavator more than 15 years ago. The company shares the background behind its development, how it has evolved over the years and what has propelled its popularity on specific types of jobsites.
IHI/Compact Excavator Sales has exhibited at the World of Concrete since 1994. For many years in the late '90s, we had contractors coming into our booth asking if we manufactured an electric mini-excavator. After we continued to see the demand grow, we decided to build the first prototype at our facility in Elizabethtown, KY.
The first 7J electric mini-excavator was introduced at the World of Concrete in 2000 with overwhelming response from the contractors. The 7J electric was a 2,000-lb. unit with a 5-ft. 2-in. digging depth and a fixed undercarriage at 31 in., which allowed the unit to maneuver through a standard doorway.
The first electric mini-excavator was sold to Ohio Concrete Sawing and Drilling located in Sylvania, OH. They were using the unit to perform indoor excavation jobs after they saw cut the existing floor in buildings that had to have plumbing replaced. The buildings that they were working in did not allow any gasoline- or diesel-powered units. The equipment being used on the job had to be 100% free of fumes.
After the first few jobs, they realized that the 7J electric saved money and time in the long run. This small electric unit can also be equipped with a hydraulic hammer for demolition applications, which eliminates the use of hand-held jack hammers.
In 2008, we introduced the new and improved version of the 7J electric, the 9VX electric… It can be powered by a single-phase 208/230-volt engine or a three-phase, 480-volt, 5-hp Baldor engine. This versatile unit also comes standard with an expandable undercarriage that has a width of 37.5 in. expanded and just 27.5 in. retracted, allowing the unit to easily maneuver through a standard doorway.
By 2010, the demand had grown for a larger electric mini-excavator. In 2011, we introduced the 17VX electric, which is a 3,500-lb. unit with a digging depth of 7 ft. It comes powered by a three-phase, 480-volt, 15-hp Rueland engine. This electric beast also comes with an expandable undercarriage that has a width of 50 in. expanded and 37.7 in. retracted.
The 17VX electric is the largest electric unit that we plan to build at this point. The demand from contractors is mostly for the smaller electric units that are able to work in existing buildings performing rehab work. Per contractors' feedback, a larger unit than the 17VX electric would not be cost effective and the unit itself would be much too big to get inside buildings.
In the past, contractors have used electric saws to saw cut concrete inside of buildings, electric hand-held jackhammers to break up the concrete and manual labor to load the debris to be hauled out. With our line of electric mini-excavators, a contractor has one unit that will excavate, break up and load debris, thus eliminating the manual labor aspect of the job that will allow the contractor to expand his business by using his employees on other new projects.
Power and Mobility Choices
Wacker Neuson's compact excavator lineup includes the 803 Dual Power option, as well as wheeled excavator models. Warren Anderson, product manager, excavators and dumpers, shares the mindset behind the introduction of these models in North America, their potential benefits and future opportunities for these machines.
The compact construction industry is completely saturated. Manufacturers that distinguish themselves are the ones that will succeed. We like to consistently think of ways to differentiate ourselves and develop compact equipment that will help the customer become more efficient.
The 803 Dual Power was our answer for contractors that need to work in areas where there is a zero emissions restriction or total noise restriction. It is perfect for confined spaces, poorly ventilated areas and states or specific locations that have strict emissions regulations. It offers the flexibility of disconnecting from the Hydraulic Power Unit and working normally as a diesel excavator, as well.
[Video] Wacker Neuson 803 Dual Power Zero Emission Excavator in Action

The 803 Dual Power fits perfectly with the green trend in the construction industry. Tier 4 drastically reduced engine emissions but the dual power takes it one step further. Regulations get stricter every day, so this design will open the door for safer, healthier work environments.
The 803 is the smallest Wacker Neuson excavator and is ideally suited for tight spaces. The size is just 27.5 in. wide, so it easily fits through a standard doorway, and the rubber tracks won't damage interior floors.
Excavators that are under 3 tons can fit into some very tight places, especially if they are a zero tail design. This means that any of these size units could be a candidate to be connected to a Hydraulic Power Unit and run at zero emissions.
Our wheeled excavators provide excellent versatility and have found a successful home in the roads and bridges and municipality segments. The huge benefit to our wheeled excavator is the fact that it can move itself to and from jobsites at speeds up to 18 mph. Many municipalities easily see the benefits when doing road work in a several block radius and not having to constantly load and unload the excavator at each site.
Wacker Neuson EW65 Wheeled Excavator

Wacker Neuson EW 100 Wheeled Excavator

Wheeled excavators [are suited to] any application where you need to move frequently (e.g., fixing sewer drains or positioning cement barriers for highway construction). Wheeled excavators can save contractors and municipalities time and money with their unparalleled mobility and by eliminating the need for a transport truck.
Wheeled excavators are really big in Europe and are catching on in the U.S. For customers who have switched from a conventional tracked unit to the wheeled unit, the benefits and flexibility were immediately clear. Being able to drive 18 mph to the next job and leaving the truck and trailer parked until the end of the day allows them to be more productive and get more done in a day.
[VIDEO] Outriggers, Rear Blade Provide Optimal Stabilization for Wacker Neuson's EW65

I see the wheeled excavators growing in the future, which will drive more application-specific attachments and size classes.
Bringing A Concept to Life
Volvo Construction Equipment showcased the GaiaX 2030 concept excavator at CONEXPO-CON/AGG 2014. Sidney Levy, design director, discusses the reasoning behind its development, and how the company is merging its futuristic features with current equipment design.
The GaiaX was designed to demonstrate potential future technologies. The aim of the project was not to produce a fully operational model or to develop these technologies, but to enter into a dialogue with engineers and customers and explore different options for future machines... This ensures we're focused on new ideas and developments that benefit our customers.
[Video] Volvo GaiaX Concept: What Construction May Look Like in 2030
The fully electric, zero emission GaiaX is fitted with rechargeable batteries but can also be used while plugged into an external electrical power source. The traditional cab is replaced by a lightweight steel guard rail, while the battery alone acts as a counterweight to the arm and boom. By doing this, Volvo CE has turned the usual disadvantage of a heavy battery into an advantage.
The GaiaX seat is an innovative new feature built from corrugated wood. The tension in the seat can be adjusted depending on the corrugation, offering a lot of flexibility. The seat demonstrates that simple technology can produce effective results. By using wood, we are able to reinforce our commitment to environmentally conscious machinery, as well as evoke our Swedish design roots.
By investigating different ways of constructing our machines, we are able to understand how best to develop our current products. Although they might not include features that are directly taken from concept machines, our existing products are influenced by the issues raised in creating these concepts.
For example, we discussed different ways to improve operator comfort and access to the cab, and this helped us to discover how we can enhance the operator experience. On the GaiaX, we used orange guard rails, which not only command the attention of those around the jobsite but also embody Volvo's commitment to the environment. They are covered with leather, a natural material that is pleasant to the touch. We have since improved the railings on our machines to facilitate easy access, and we addressed the choice of material and colors we use when creating our cabs.
The human-machine interface (HMI) on the GaiaX was the prelude to the Volvo Co-Pilot onboard services display, which was unveiled in April at bauma 2016. The GaiaX's augmented reality tablet shows the location of water pipes and electrical cables on screen, allowing the operator to visualize the work before it's carried out. A ground scanner provides precise information on obstacles to guarantee the effectiveness of auto-dig modes (which paved the way for the Dig Assist service on Volvo Co-Pilot) and projects images onto the ground to show the work site and mark safe zones for the operator and passersby. The tablet also connected to other machines in the fleet to provide a more effective way of working.
The in-house developed Volvo Co-Pilot system is designed for use on machines as diverse as excavators to pavers. It uses a tablet computer to deliver a new generation of intelligent machine services, such as Load Assist, Dig Assist, Compact Assist and Pave Assist.
Volvo Co-Pilot and the assist-functionalities help operators to produce higher quality outcomes, in less time and with less effort.
Volvo Co-Pilot Wins Prestigious Human-machine Interface (HMI) Award

Companies in this article