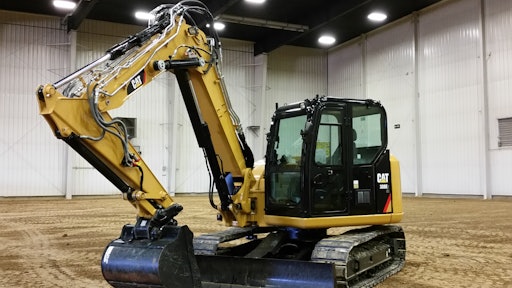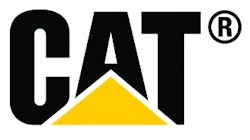 The 19,184-lb. 308E2 mini hydraulic excavator is now available in a variable angle boom (VAB) configuration that provides an expanded working envelope and increased application flexibility. The configuration is designed to complement the 307E2 fixed boom and 308E2 standard boom machines and offer customers more options to meet their needs.
The VAB provides a maximum dig depth of 169 in. and extends the 308E2's maximum reach to a total of 306 in., an increase of 30 in. compared with the standard boom and stick configuration. Dump clearance is extended to 239 in., an increase of 56 in. In addition, the VAB allows the 308E2 to work closer to the blade and tracks, resulting in added lift capacity when working in confined areas.
"A variable angle boom machine gives you a lot more flexibility and versatility," says Greg Worley, senior project engineer, mini hydraulic excavator product group at Caterpillar. "But more importantly is being able to work up closer to the machine... You can crowd your material and dig right up to the blade. So the biggest advantage of this machine is working in a very small area."
The 308E2 features a compact radius design that limits tail overhang when working over the side to 11 in., further ensuring efficient, safe operation in confined spaces and on congested jobsites. For applications requiring more stability and lift capability, an available added counterweight extends overhang modestly to 16 in.
Includes a 65-hp C3.3B engine and load-sensing hydraulic system that delivers flows to 39.6 gpm
ROPS-certified operator's station features a large air suspension/heated seat, adjustable wrist rests and ergonomic joysticks
COMPASS monitor includes a pass-code protected security system, adjustable auxiliary flow control, site reference system and rearview camera
Safety features include the Cat interlock system to prevent hydraulic functions when the safety bar is raised, an automatic swing brake, retractable seatbelt and travel alarm
Undercarriage can be fitted with a rubber belt, steel tracks or steel tracks with rubber pad
Available mechanical or hydraulic quick couplers and standard thumb-ready stick
Request More Information
Fill out the form below to request more information about
Cat 308E2 Excavator with Versatile Variable Angle Boom