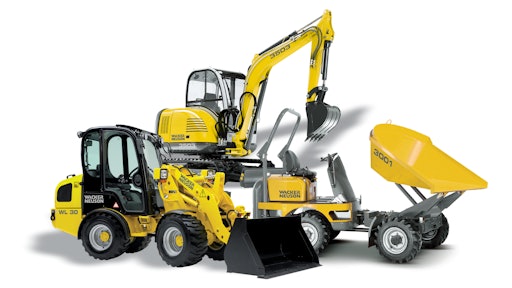 Wacker Neuson celebrated the opening of the new compact equipment factory in the Upper Austrian city of Hörsching for a total of four days. More than 7,000 visitors took the opportunity to visit the new and largest manufacturing location in the corporate group.
The kick-off for the festivities was the employee party on Wednesday. On Thursday, there was a conference for the international press, followed by nearly 500 invited guests being led through the new production halls. In the evening, a gala evening was held in the festival tent. In addition to the introductory words of the managing directors of Wacker Neuson Linz GmbH, Gert Reichetseder and Johannes Mahringer, Cem Peksaglam, CEO, discussed the company, its roots going back over 160 years, current developments and the company's strategy. Martin Lehner, CTO, emphasized the innovative strength of the Wacker Neuson Group.
In his speech, Hans Neunteufel, Chairman of the Supervisory Board of Wacker Neuson SE and founder of Neuson Kramer Baumaschinen AG, looked forward to a promising future with further growth, for which he expressed his absolute confidence in the Board of Directors.
In his speech, Governor Dr. Josef Pühringer expressed gratitude for the strengthening of the location in Upper Austria, and, together with Hörsching mayor Günther Kastler, handed over a series of paintings of the new factory building to the managing directors. This was followed by the official cutting of the ribbon.
For investors of the corporate group, the Capital Markets Day took place on Friday morning. From noon, the gates were then opened for the international sales partners and their customers. The focus here was the tour of the production facilities, which showed the customers the origins of their machines. In the evening, a gala was once again held. Overall, well over a thousand sales partners and customers used the opportunity to tour the factory and take part in the celebration.
Finally, an open house day was held on Saturday. In addition to guided tours through the production halls, Wacker Neuson's excavators, dumpers and skidsteer loaders were also presented in the demo area. An additional crowd puller was the mountain bike trial show of world champion Thomas Oehler.
In the festival tent, regional music clubs provided musical entertainment. At various information pavilions, visitors were able to obtain information of Wacker Neuson's product and services, along with training and careers at Wacker Neuson.
"With great pride, we look back at a successful week, which has broken all records. On different days, we were able to welcome over 7,000 guests. Feedback from our guests has been overwhelming. Together we managed to inspire our visitors, particularly our distributors and customers, with our new location," said Gert Reichetseder, managing director of Wacker Neuson Linz GmbH.