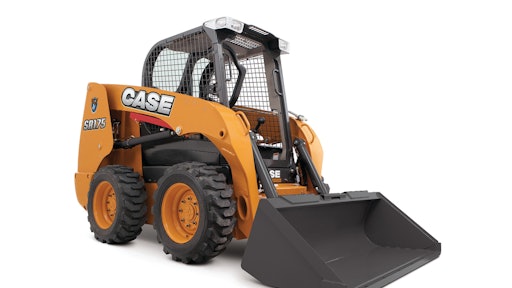 Case Construction Equipment will introduce new products and provide equipment demonstration opportunities at the International Construction and Utility Equipment Exposition (ICUEE) 2013, held in Louisville, Kentucky October 1-3. ICUEE provides contractors and utilities with one of the most extensive equipment demonstration venues in the construction industry. The Case demonstration (outdoor booth K277) will feature new introductions and popular products for these markets, including:
The 590 Super N backhoe loader: The 590 Super N features a 3.4-liter, turbocharged 108 HP engine outfitted with cooled exhaust gas recirculation (CEGR) emissions control technology. The Tier 4 Interim engine burns cleaner while delivering superior horsepower, faster response and 5% better fuel efficiency under load compared to previous models.
Alpha Series skid-steer loaders: Case recently introduced updates to its line of skid steer loaders that meet the federal Tier 4 Final emission standard with upgrades to four products in its Alpha Series line, including the SR175 and SV185 medium-frame skid steers. The SR175 boasts a 21% higher peak torque rise at 1800 rpm compared to the previous model, and goes from 60 to 67 gross hp, a 12% increase. The SV185 remains at 60 gross hp and has 7% more torque than the previous version.
F Series wheel loaders: F Series wheel loaders offer increases in fuel efficiency while delivering faster acceleration and quicker cycle times compared to previous E Series models. These models are available in standard Z-bar, extended reach and tool-carrier configurations. Case chose selective catalytic reduction (SCR) technology for its F Series wheel loaders to meet Tier 4 Interim emissions standards based on the machine's application tasks and power demands. The benefits of SCR technology are greater efficiency and reduced downtime due to the elimination of heightened fuel burn or diesel particulate filter (DPF) regeneration.
In addition to these products and other new introductions, the company will showcase ProCare, a suite of product assurances that includes a three-year Advanced SiteWatch telematics subscription, a three-year/3,000-hour full-machine factory warranty, and a three-year/3,000-hour planned maintenance contract on select 2013 new heavy Case machines sold through equipment dealers, including full-size excavators, full-size wheel loaders and motor graders.
CASE will also feature its SiteWatch telematics, remote monitoring and data reporting program that provides customers with actionable information to help manage their fleets and optimize machine performance. This includes data related to performance metrics, idle-time analytics, scheduled maintenance intervals, machine health reporting and programmable security alerts.
Companies in this article