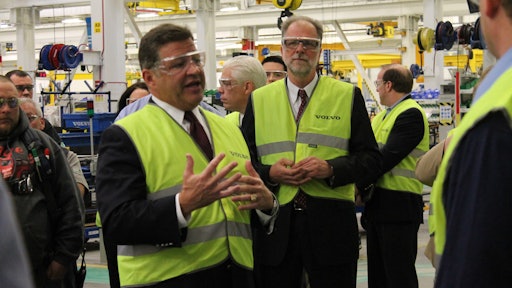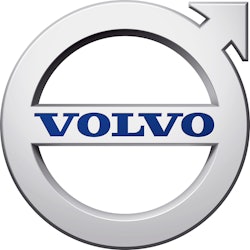 Congressman Bill Shuster (R-Pa.) Shuster, chairman of the Transportation and Infrastructure Committee in the U.S. Congress, braved sub-zero temperatures on January 6 to visit the North American headquarters of Volvo Construction Equipment in Shippensburg, PA. The congressman and his team toured the company's expanded headquarters and saw first-hand the investments Volvo Construction Equipment has made in North America.
Since announcing a series of investments in 2011, Volvo CE has added 300 jobs in the Shippensburg area, making a total workforce of over 1,000 employees. The most recent investment phase at the facility – of $100 million – has seen localized production of wheel loaders at the facility, as well as the opening of a state of the environmentally sustainable headquarters building for the Americas region.
"Touring the Volvo facility in Shippensburg was an incredible experience. The work those men and women do is truly remarkable. I had a great time speaking with the employees first-hand and witnessing their skills in action," said Shuster. "Volvo is an integral part of the economy. The construction equipment being built right here in the 9th District is being used on projects all across the country."
Shuster and his team also got a glimpse of the future with a tour of the emerging North American customer center, which will be inaugurated in June. The facility will include an 80,000-sq.-ft. training and customer event facility for the company's dealers and customers. A new equipment demonstration area will replicate actual jobsites, helping to accurately exhibit real-world equipment performance.
Highway Bill
During Shuster's visit, the congressman met with senior executives and discussed the prospects of introducing a fully funded longer term highway bill when the current bill is up for renewal later this year.
"Volvo Construction Equipment was delighted to host Congressman Bill Shuster during his visit to our recently expanded facilities here in Shippensburg. We support his work as chairman of the Transportation and Infrastructure Committee and the efforts being made to secure a fully funded highway bill," stated Goran Lindgren, President Region Americas for Volvo Construction Equipment.
Companies in this article