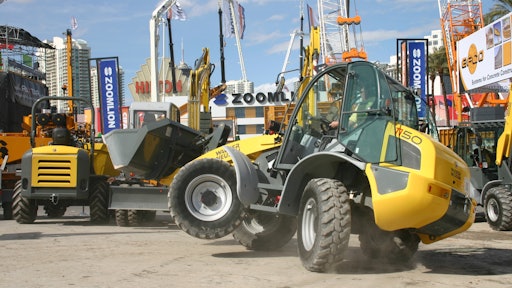 Wacker Neuson will introduce a variety of new products at its CONEXPO-CON/AGG booth #4452 in the Silver Lot. In addition to models in its lighting, compaction, heat and site prep lines, the highlight of the show will be the introduction of the company's new line of skid steer and compact track loaders. 
Wacker Neuson plans to unveil four models of skid-steer and compact track loaders, which will be available through the company's US and Canadian distributor network starting in mid-2014. Two wheeled skid steer models, the SW 24 and SW 28, and two compact track loaders, the ST 35 and ST 45 will be revealed to contractors for the first time during show, March 4-8, 2014 in Las Vegas, NV. The line will include vertical and radial lift models in a variety of packages and price ranges to fit the North American market.
Wacker Neuson's SSL and CTL's have been designed and built from the ground up using on-going feedback and advice from contractors who use these machines every day to make a living.  The units use top components and redefine the cab with details designed for the operator.
Also being unveiled at the booth:
803 Dual Power Mini Excavator – The 803 1-ton mini-excavator can fit through standard interior doors and is now available with a dual power option. The machine can simply be changed from diesel to electric power and used indoors, emissions free. The 803 with HPU (hydraulic power unit) does not lose power when converted and is suited for interior demolition applications.
ET 20 Track Excavator – A new generation of compact track excavators start with the ET 20. A redeveloped cab design provides the work station with plenty of legroom, well placed controls and optimal visibility of the jobsite. The ET 20 offers a diesel engine, innovative hydraulic system and optimized undercarriage offering maximum stability.
Rammers – Vibratory rammers have been Wacker Neuson's signature product for over 50 years in the United States. The newest generation of 2-cycle oil-injected, 4-cycle and 2-cycle models includes a host of enhancements to improve the performance and prolong the life of the longest running rammer even longer.  
Compatec – Wacker Neuson is offering a new compaction control system on its most popular diesel reversible plate, model DPU 6555Hec. The monitoring system, called Compatec, is designed to take the guess work out of determining when soil has reached the ultimate compaction results.
Heaters – Wacker Neuson has diversified its line of heat products to offer customers a number of heat solutions for any size job during cold weather operations. Products include the HI 770XHD with new gas detection system, the new HIF 690 and HIF 1200 Flameless heaters - both designed for potentially hazardous environments - the new HDR 155 radiant heater and the new E 1250 surface heater for thawing and curing applications.
Demonstration Arena
Within the exhibition booth, a large demonstration arena will be available for spectators to view Wacker Neuson machinery in action. Skilled machine operators will be running the equipment in general construction, utility and infrastructure, landscaping, industrial, concrete and agriculture worksite applications. Daily demo shows are scheduled at 10:30 a.m., 12:00 p.m., 1:30 p.m. and 3:00 p.m. 
During non-demo show times, the equipment will be available for attendees to try for themselves and Wacker Neuson experts will be available for one-on-one product demonstrations.
Another attraction at the booth is the Vertical Digging System (VDS) Excavator Challenge. This interactive competition showcases the VDS's unique features as well as tests the participants' operating skills. Participants will be timed while they pick up balls off of stands with the excavator bucket and then place them in buckets. The Challenge will take place throughout the day at the booth and each day a daily $100 prize will be given to the attendee with the fastest time.