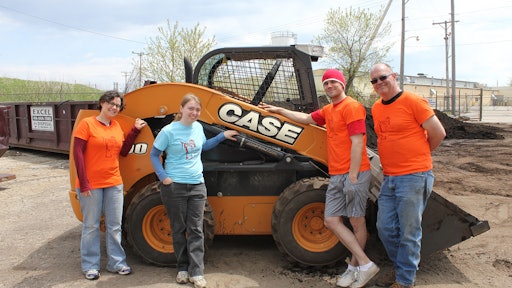 The Victory Garden Initiative is taking on food sustainability – one garden at a time. The 6th Annual Victory Garden Blitz provided 500 raised-bed gardens to people in the Greater Milwaukee area. Upon completion of this year's event, the Victory Garden Initiative will have installed more than 2,000 gardens for communities throughout Milwaukee.
The inspiration for the Victory Garden Initiative came from WWI and WWII, where communities built gardens to be self-sustaining, focusing other available resources towards the war effort. Today, the mission focuses on empowering communities to grow their own food and "re-establish the relationship between human and food ecology."
CASE Construction Equipment and CNH Industrial are two of many partners of the Victory Garden Blitz.
"At CASE Construction Equipment, we acknowledge the benefits of creating more sustainable communities," says Jim Hasler, vice president, CASE Construction Equipment – North America. "The Victory Garden Blitz is an important event that not only promotes a healthier lifestyle, but empowers community members to come together for a common goal. We wouldn't miss the opportunity to participate and once again give back to our community." 
In addition to financial sponsorship of the Victory Garden Initiative, the manufacturer donated the use of an SV300 skid steer for the event.  
"CASE has been an incredible partner for the Blitz," says Victory Garden Initiative Director, Gretchen Mead. "They offer dozens of volunteers, a skid steer and resources to ensure we can successfully install hundreds of gardens at or below cost to anyone in Milwaukee that wants to learn to grow their own food. We are so thankful for their on-going partnership."
The gardens are made possible with a $160 donation or sponsorship. Each garden is 4 feet by 8 feet and includes a full installation as well as new soil from local composters. Volunteers install the gardens in backyards and front yards of homes, schools, community centers and more.
The Victory Garden Initiative promotes a sustainable food system by building communities of people who grow their own food. The scope of Victory Garden's educational programs and urban agricultural projects encompass a complete cycle: from soil, to seed, to plate, and composting back to soil. 
Companies in this article