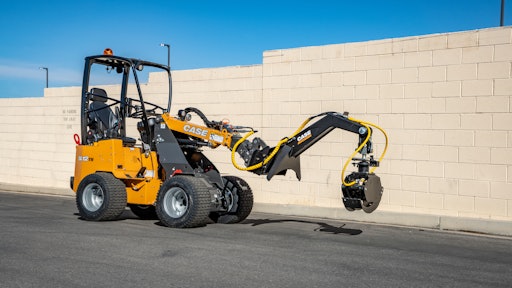 CASE Construction Equipment

CASE Construction Equipment has launched an all-new lineup of mini track loaders and small articulated loaders, giving small contractors construction-grade capabilities on the jobsite. The new product lines from CASE highlight how landscapers and other small contractors can overcome labor challenges.
The new stand-on TL100 mini track loader offers crews a powerful attachment platform in a compact machine. Additionally, the new line of six small articulated loaders — including a telescopic model and an all-electric model launching in early 2024 — will give contractors a variety of options and power ranges to meet their challenges. Both product lines bring a new level of power and flexibility to small machines.
"We're continuing to transform the way work gets done with new, smaller machines that leverage all the weight and power of a global, full-line manufacturer that's more than 180-years strong," said Ryan Anderson, product manager, MTL/SAL, CASE Construction Equipment. "The new mini track loaders and small articulated loaders will help contractors of any size reduce tedious labor, minimize their footprint and upsize the amount of work they can get done with a pickup truck and a trailer."
New Mini Track Loader
With an operating capacity of 1,000 lbs. and a compact profile that can maneuver through yard gates, tree groves and other tight areas, the new TL100 mini track loader gives contractors a reliable machine on worksites. The 24-hp track loader also features a 14-pin electrical connector and a Common Industry Interface for attachment flexibility and performance. With over 40 attachment options available, the TL100 can handle the work of multiple laborers on jobs like digging, earth moving, setting fence posts, grappling brush and grading.
"It's a massive upgrade from a shovel and wheelbarrow," said Anderson. "The power, attachment flexibility and full set of premium features on this machine give teams everything they need to get more work done with fewer hands."
The CASE TL100 can be transport from site to site and causes minimal disruption to the ground.
New Line of Small Articulated Loaders
CASE will release six new small articulated loaders to help contractors of all sizes meet their challenges on tight jobsites. With power ranges from 24 to 74 hp, operating capacity from 1,500 to more than 3,000 lbs., options for diesel or fully electric and a full range of more than 110 powerful attachments, CASE small articulated loaders provide versatility on jobsites.
"When it comes to attachments on our small articulated loaders, we're giving contractors a whole arsenal of tools to handle almost any task," said Anderson. "But the versatility doesn't stop there. We designed these machines with common industry couplers so contractors can also leverage a wide range of CASE and non-CASE attachments."
Several CASE small articulated loaders, including the SL12TR model, feature a telescopic arm to provide an extra-long reach for loading trucks or moving material into tough-to-reach places. Where lifting capacity is a priority, CASE will offer rugged models with traditional Z-bar loader linkage that can handle heavy loads.
CASE is also launching the all-electric SL22EV that delivers the same power as its diesel counterparts and can be fully charged in one hour. This electrified machine provides a low noise, zero-emissions solution for getting work done in a broader range of environments — whether it's indoor work where air quality is paramount or a close-quarter residential neighborhood where contractors need to keep noise levels down.
"We've designed this new generation of machines with intention and practical innovation so that contractors of any size can crush it on the jobsite and grow their business," said Anderson. "The new small machines we're launching at Equip Expo will be invaluable to landscapers, arborists, nurseries and others."
Request More Information
Fill out the form below to request more information about
CASE Announces New Mini Track Loaders and Small Articulated Loaders