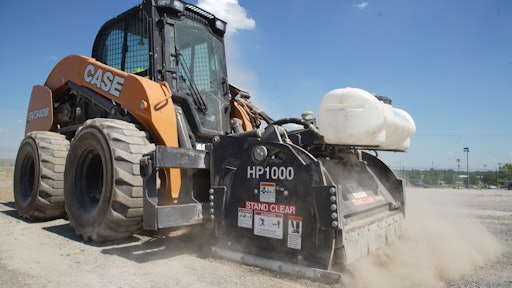 Ford Asphalt Company has provided commercial asphalt and concrete paving services to the St. Louis Metro area since the company was founded in 1975. Over the years, it has built a long list of repeat clients that continue to call on the company for quality paving work. In fact, more than 90% of the company's work is repeat business.
Randy White of St. Louis-based Case dealer Luby Equipment attributes this kind of longevity and success to positive leadership. "I think that it starts with the owner of the company (Bruce Ford) and how they treat their employees, and then that is reflected in their work," says White. "It's a people business. And when somebody at the top treats their people well, it's just completely reflective of their day-to-day operations and work."
A New and Modern Addition
With over 45 years of experience working on commercial parking lots, municipal road repairs and other projects, Ford Asphalt has owned countless pieces of equipment. A more recent addition is a Case SV340B skid-steer loader. The 90-hp skid steer features a rated operating capacity of 3,400 lbs. and bucket breakout force of 9,531 lbs. It has a vertical lift that makes it suited for reaching into Ford Asphalt's dump trucks and the company had it equipped with high-flow auxiliary hydraulics for running a variety of attachments.
Andrew Wilbourn, Jr. has been an operator for Ford Asphalt for over 33 years, and has been running equipment since he was a young boy. "I started on the [Case] 1845, all the way down to where they started getting fancier and fancier and more modern," he says. "And the more modern they got, the more power they had… And [the SV340B] has really got some power."
As part of the machine's electrohydraulic features, the new model allows operators to store and recall specific setting profiles to match individual operator preference or job types. It allows operators to set total machine responsiveness to low, moderate or aggressive, or independently set tilt, lift and drive speeds, as well as loader arm and drive control according to job demands.
Operators can also switch between ISO and H operating patterns with the simple push of a button. "Most of the guys that work here prefer the H pattern, and some use the ISO pattern," says Wilbourn. "It is very easy [to switch]. You punch the button and you have to wait for a second — boom — real quick."
Creep Speed Aids Milling Applications
The SV340B offers other new features that were high on Ford's list when considering a new model. One of those features is Creep Speed, which enables the operator to set machine speed at a consistent/slow "creep" while independently setting attachment speed via the throttle. This allows for optimal use of hydraulic attachments such as cold planers and brooms, which are essential tools on Ford's jobsites.
The Creep mode helps control the drive speed during milling operations. Milling too fast on a hard surface can cause the machine to bounce as well as cause jamming of the attachment.
"If you tried to go too fast with a mill, it will jam and stop. But if you get a steady pace you can now mill just about anything with it," Wilbourn states. "[With Creep] mode, you can sit there and just creep along and mill away… When you don't have [Creep Speed], it's all in your hands — you have to feel to move forward." The feature lets the operator "just set that and it just walks itself."
All-around Visibility
Another feature Wilbourn appreciates is the machine's 360-degree visibility, enhanced by a new backup camera and a standard cab-wide rear view mirror. A low entry threshold and large front window provide visibility to the front of the machine and down to the attachment. Large side windows and a large curved rear window provide improved sightlines to the sides and rear. Rear visibility is further aided by a low-profile rear hood and low-profile H-Link.
"Visibility is very important, especially when you're working on an asphalt job," Wilbourn comments, noting multiple people will be walking around including finishers and laborers. "You have some crews consisting of seven people or more — and you have to be vigilant all the time. It's very important that you see where everybody is."
The ability to see behind the machine is especially important. "I really love the backup camera on there," says Wilbourn. "That's one safety feature that I wish all skid loaders had."
Service and Support
When it comes to equipment service and repair, Ford Asphalt works directly with the team at Luby Equipment. For Wilbourn, this is a more than 30-year relationship. 
"I've been working around Luby for years — for as long as I've been at the company," says Wilbourne. "They've been very, very helpful in getting us the equipment that we need when we ask for something. Randy is right on top of it."
When asked about his equipment preference, Wilbourn has a ready answer. "I can't choose for people, but I can choose for myself. When they ask me, 'what do I prefer?' I tell them I prefer a Case," he says. "Case has been a good piece of equipment and I like it better... overall than any other piece of equipment."
Article provided by George MacIntyre, product manager, Case Construction Equipment.