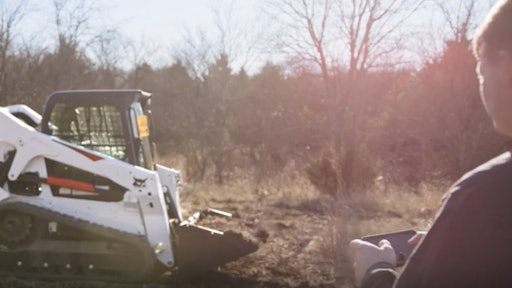 Available on M2-Series and R-Series compact loaders with Selectable Joystick Control (SJC), Bobcat MaxControl remote operation provides convenient operation via an innovative yet simple app platform for iOS devices. The app turns an operator's smartphone into a control unit for the loader with the ability to command machine functions and operate attachments from outside of the cab — up to 300 feet away.
The economical dealer-installed system functions as an extra set of hands when help is limited, allowing quick two-person jobs to be handled by a single operator and enabling operators to avoid repeated trips in and out of the cab. The system can also control multiple machines, one at a time, providing great versatility. Each operator on the job can access multiple remote-control-equipped loaders via the app, selecting the machine they need and putting it to work.
With a durable, affordable and job-tested component box, plus a single wiring harness, this system allows customers to unlock a world of remote-controlled possibilities for improved productivity.