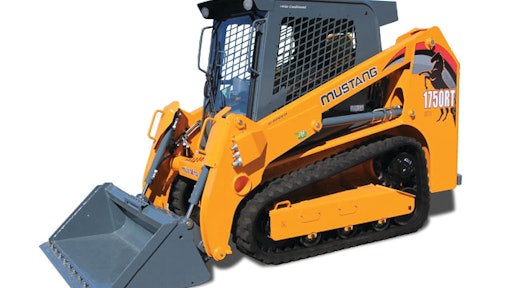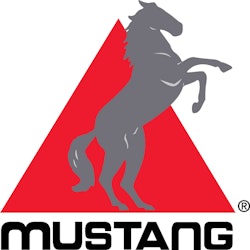 Mustang's 1750RT NXT2 and 2100RT NXT2 radial-lift track loaders feature a unique power management system that transfers horsepower into productive performance. The system utilizes Horsepower Management Technology and Drive Sensitivity Adjustment. Drive Sensitivity Adjustment offers five settings which adjust drive operation characteristics to suit user preference and application requirements.
Tier 4-certified Yanmar diesel engines with diesel particulate filter technology
IdealTrax Automatic Track Tensioning system can extend track life up to 15%
Straight tracking is standard - adjust tracking from the cab
Large operator's compartment with cab-forward design
Side-folding restraint bar
Joystick and hand/foot control towers are fully adjustable
Standard mechanical or optional air-ride suspension seats
High-powered auxiliary hydraulics
Electronic attachment control with 14-pin connector
Gas spring assist on tiltable Level II ROPS structure
HydraGlide ride control
Hydraloc safety system
Lift heights: a little over 10 ft. 6 in. to pin height
1750RT NXT2
69.9 hp
Peak torque: 179 ft.-lbs.
Standard hydraulic flow: 18.5 gpm
High flow: 34 gpm
Rated operating capacity: 1,750 lbs.
Brochure: Mustang RT NXT2 Series Compact Track Loaders
2100RT NXT2
72 hp
Peak torque: 217 ft.-lbs.
Standard hydraulic flow: 21.8 gpm
High flow: 35.9 gpm
Rated operating capacity: 2.100 lbs.
Request More Information
Fill out the form below to request more information about
1750RT NXT2 & 2100RT NXT2 Track Loaders