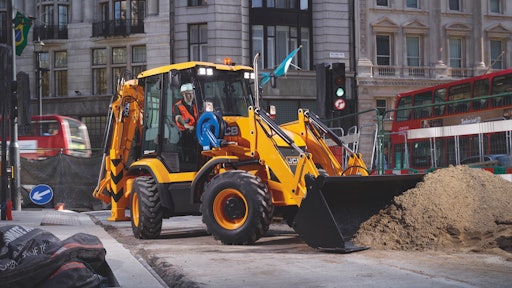 "Many times, people say that the backhoe-loader market is a declining market – it's shrinking, backhoes are going away. And that's not true," says Diego Butzke, product manager, JCB.
While he acknowledges that backhoe-loaders have lost terrain to compact products such as skid steers, compact track loaders and mini-excavators, Butzke points out that these are specialized machines, and one can't do the job of the other. "That's the advantage of the backhoe. It can do the work of many machines all at the same time, with one operator and with a fairly low cost of operation.
"Obviously, there are things that a backhoe will not do, but from what you can get from a backhoe, it's a really good deal," he continues. "The backhoe market has gone down to around 10,000 units… but it has reached a bottom and I only think it will grow from now on. We can expect the backhoe market to come up again."
While the backhoe-loader market may grow, JCB is banking on a "downsized" version of the machine itself. "Over mainly the last five years, there has been a shift in backhoe design toward some of the sectors that are growing and needed solutions," says Butzke. "One of the things that JCB has looked into is to make the backhoe a smaller machine – to reduce its work footprint into a compact unit so that the machine can serve in, for example, confined spaces."
The company officially launched the 3CX Compact at CONEXPO-CON/AGG 2017. The backhoe is a 35% smaller version of the standard 3CX, yet retains the speed and power of the larger machine.
"Work sites are getting smaller and smaller…. If you need to do any utility work in the roads and in the streets, it's hard to do the work and make the traffic flow," says Butzke. "Reducing the footprint of the backhoe – in this case, bringing the 3CX Compact – helps a lot. Many customers in the utility sector or in the highway repair sector… appreciate a smaller, more compact product." The unit is also capable of travel speeds up to 25 mph, allowing it to be easily roaded between jobs or work areas.
Solutions Target Specific Applications
JCB also provides "solution packs" to customize the 3CX Compact to specific tasks. For example, the 3CX Pothole Master is configured with a skid-steer hitch in the front to engage attachments such as a sweeper, while a small patch planer has been designed to be mounted on the backhoe end.
"The 3CX Compact has a side shift chassis on the back rather than a center-mount chassis… It allows that back end to move from one side to the other," says Butzke. "With the patch planer on the back, you can plane a square area easily with the machine stopped in one place. It doesn't have to reposition." An auxiliary hydraulic circuit for hand-held tools enables use of a breaker or other tools to help complete the repair task. "After you've done that, you raise the [stabilizers], grab the sweeper and clean up."
Additional specialized configurations are available. "JCB has a couple of other products in other markets where we see a similar level of specific application," says Damien Mills, general manager, brand marketing communications, JCB. "There is a trend in some sectors to have application-specific packages to move what is generally considered a general-purpose machine… and make it far more efficient for that specific purpose. The Pothole Master is just one of the JCB solutions available."        
Not Afraid to Innovate
Since the backhoe-loader market largely consists of full-size machines, JCB delivers models to meet specific customer needs at this end of the spectrum, as well.
"One of the great examples that we have on the full sizes is the 4CX Super. It looks like a wheel loader but it's actually just a big backhoe. Its productivity level is compared to a wheel loader and an excavator," says Butzke. "We designed the Compact backhoe to serve in specific sectors, but there are those customers that [want] a bigger machine, and that's where we have the 4CX Super."
Obviously, the company has come a long way since it introduced the backhoe-loader concept back in 1953. "JCB today offers the widest range of backhoes in the market," says Butzke. "We currently have eight different models."
Where it will head next with backhoe-loaders and, for that matter, its other product offerings is hard to say. But expect it to continue to follow its own unique approach. "JCB has a history of innovation, of bringing new and different features to the market," Butzke states.
The 3CX Compact, TM320 telescopic-boom wheel loader, Teledig and Hydradig are just a few recent examples. If they're any indication, there's sure to be plenty more ahead.