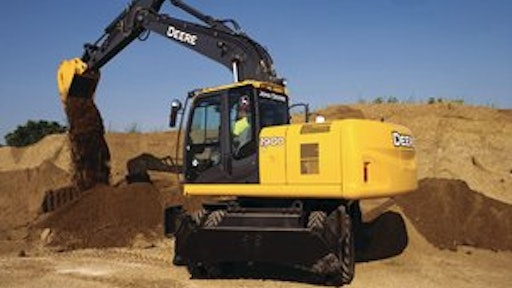 190D W and 220D W
The 190D W and 220D W wheeled excavators feature Tier III-certified engines and increases in horsepower, weight and digging forces over previous models.
19-ft. 2-in. and 20-ft. 8-in. dig depths
Bucket forces to 29,000 lbs.
5.2L Tier III-certified diesel engines rated at 159 hp
Powerwise III engine/hydraulic managements system
Available with mono- or two-piece booms
Cabs feature more legroom, lower noise levels and ergonomic, low-effort controls
John Deere Construction and Forestry Division
283Z Compact Excavator
The 2.7-ton 283Z zero tailswing compact excavator has a superstructure that rotates entirely within the tracks, enabling it to operate close to walls and obstructions without risk of contact.
Can be transported on a passenger car trailer with a permissible weight of 3.5 tons
Standard two-way auxiliary hydraulics with a direct-to-tank return line
Strong, stable, one-piece boom
Gehl Company
315D L Excavator
The 315D L excavator delivers 5% more horsepower and as much as 8% more lift capacity than the 315C L, which it replaces.
115-hp Cat C4.2 engine meets Tier III emissions regulations and delivers more work per gallon of fuel
Factory-ready for auxiliary hydraulic circuits
Same spacious cab as on larger Caterpillar excavators
Four stick options
Economy mode to reduce fuel consumption in light-duty applications
AccuGrade grade control system
CATERPILLAR
418 Compact Excavator
The 2,593-lb. Bobcat 418 from Doosan Infracore provides zero tailswing with tracks extended.
6-ft. dig depth
Undercarriage retracts to less than 28 in.
Two-position joystick consoles with pilot-operated joysticks
Choice of ISO or standard pattern joystick operation via a control pattern selector valve
Two travel speeds ranging from 1.3 to 2.1 mph
Bobcat Co. - Doosan Infracore
65NX
The 14,300-lb. 65NX has an 8-ft. 4-in. minimum front swing, allowing for maneuverability in tight conditions.
12-ft. 10-in. digging depth with a 21-ft. 4-in. reach
55-hp Yanmar diesel engine
1.7/3.3-mph travel speeds
Auxiliary hydraulics
Standard quick-change valve
Spacious cabin with wrist control-type short joysticks
Oil pressure measurement port with quick coupler
Right-side access to control valves
IHI/Compact Excavator Sales
8055 Mini-excavator
The 5.5-ton 8055 mini-excavator is available in reduced tailswing (8055 RTS) or true zero tailswing (8055 ZTS).
12-ft. 4-in. maximum digging depth with a maximum reach at ground level of 19 ft. 10 in.
46.5-hp diesel engine
Combined hammer and low-flow hydraulic circuit works with secondary auxiliary piping
Travel speeds to 3.4 mph
Standard auto kickdown track motors
Factory-fitted air conditioning
JCB Americas
9 Series Excavators
The 42,280-lb. R210LC-9 comes with a 9-ft. 7-in. arm and a 1.2-cu.-yd. bucket, while the 67,150-lb. R290LC-9 has a 10-ft. arm and a 1.66-cu-yd. bucket.
143- and 197-net-hp Cummins Tier III electronically controlled engines
Patented Posi-Nega hydraulic control system enables improved fine control capabilities
CAPO (Computer Aided Power Optimization) system
Standard HI-mate GPS-based remote management system
Larger operators cab with standard heated air-ride suspension seat, transparent skylight, CD player/radio with MP3 input, adjustable sunshades, control pattern selector valve and more
Hyundai Construction Equipment
Brokk 50
The 1,050-lb. Brokk 50 measures just 23.2 in. wide and 37 in. high, enabling it to climb stairs, as well as fit in most elevators.
5.5-kW electric motor
8-ft. 4-in. overhead reach
150-ft.-lb. hard hitting hammer
Four outriggers create a wider footprint for added stability
Remote controlled
Brokk Inc.
Compact Excavators
This line of five compact excavators ranges from the 1.4-ton 1404 with a 7-ft. 4-in. maximum digging depth to the 8.0-ton 8003 with a digging depth of 14 ft. 1 in.
Yanmar three- and four-cylinder diesel engines generate from 24.3 to 69.5 hp
8003 incorporates a short tailswing and the 38Z3 and 50Z3 are true zero tailswing machines
Standard features include rubber tracks, dozer blades, boom-mounted working lights and control pattern selection system
Short or long dipperstick versions offered for most models, along with a choice of canopy or full cab work platform with standard air conditioning
Full line of attachment tools available
Wacker Neuson Corporation
CX350B, CX470B, CX700B Excavators
Case expanded its CX B Series excavator line with the addition of the CX350B, CX470B, and CX700B. The three models feature electronically controlled, common rail Tier III-certified 7.8L Case engines that deliver 271 to 463 net hp. The new excavators also have a rail fuel injection system, a redesigned hydraulic system, and the ability to store up to 10 auxiliary hydraulic flow patterns for quick adaptation to different attachments. The new CX B excavators offer 20% increased fuel efficiency, improved operator comfort and ease of maintenance.
The CX350B, CX470B and CX700B range in operating weight from 79,065 to 153,400 lbs., with bucket digging force from 51,436 to 65,194 lbs. and maximum dig depths from 24 ft. 1 in. to 27 ft. 7 in.
Electronically controlled Tier III-certified Case 7.8L engines rated from 271 to 463 net hp
Common rail fuel injection system and redesigned hydraulic system deliver up to 7% better fuel efficiency
Low-noise, isolation-mounted cab
Store up to 10 auxiliary hydraulic flow patterns for quick adaptation to different attachments
CASE CONSTRUCTION EQUIPMENT
DX225 and DX255 Excavators
The 48,721-lb. DX225 and 54,233-lb. DX255 crawler excavators feature an electronics package that allows communication between the engine and hydraulics for optimum performance and fuel economy.
DX225 offers a 21-ft. 9-in. maximum digging depth and 33,510-lb. bucket digging force
DX255 delivers a 22-ft. 4-in. maximum digging depth and 35,494-lb. bucket digging force
Powered by 148- and 166-hp Tier III engines
Ergonomic cab with fully automatic heating and A/C, six-way adjustable seat, telescopic control stand and CD player
Auxiliary valve with one- and two-way hydraulic piping to the end of the arm with flow control inside the cab
Doosan Infracore America Corp.
EC35C and ECR48C
The conventional EC35C and short radius superstructure ECR48C compact excavators are designed for tight, congested or busy jobsites.
New-generation 36.3-hp Volvo diesel engines
Simultaneous control of swing and boom offset movement for faster, more precise performance
Blade float for quick and easy backfilling, leveling and finish work
Automatic two-speed travel system
Electronically proportional roller on the joystick control lever
Standard auto-idling system
Volvo Construction Equipment
ED195 Blade Runner
The ED195 Blade Runner combines the features and benefits of an excavator and a dozer.
Turbocharged FPT engine meets Tier III emission standards
Intelligent Total Control System (ITCS) assists with repeatability functions by providing progressive power for fine leveling and grading applications
Four standard working modes
Heavy lift on command provides roughly 10% more lifting power without a time limit
Two-way hydraulic flow can be activated from the cab
Kobelco Construction Machinery - CNH
KX080-3 Excavator
The 8-ton KX080-3 tight-tailswing excavator offers 14,660 lbs. of bucket force and 8,554 lbs. of arm crowd force.
64-hp direct-injection diesel engine with auto-idling system
Automatic downshifting
Three-pump, load-sensing hydraulic system
Twin auxiliary service ports offer a hydraulic flow rate up to 26 gpm
Oil-flow control allows easy in-cab adjustment to match needs of job or attachment
Enclosed air conditioned and heated cab with Intelligent Control System LCD control panel
Kubota Tractor Corp.
Link-Belt 350 X2 Excavator
The 271-net-hp Link-Belt 350 X2 excavator is powered by an Isuzu Tier III turbocharged diesel engine with common rail fuel injection and exhaust gas recirculation technology.
79,146-lb. operating weight
22-ft. 1-in. to 26-ft. 8-in. maximum digging depth
55,840-lbf. bucket digging force
Two-speed lifting and arm open/close functions work with hydraulic speed regeneration for quicker cycle times
Four work modes
LBX Company
R 984 C Litronic Excavator
The R 984 C Litronic excavator features well-balanced working attachments that allow maximum reach and digging depths without sacrificing bucket fill.
Operating weight of 265,000 lbs. with 35% of weight concentrated in the undercarriage for operating stability
676-hp Cummins QSK 19 Tier III-compliant, common rail engine
Pressureless boom lowering system results in quicker cycle times and increased machine efficiency
3.8- to 13.08-cu.-yd. bucket capacity
Liebherr-America, Inc.
TB228 Compact Excavator
The 24.3-hp 228B compact excavator has an operating weight over 6,000 lbs. and is powered by a Tier IV-compliant engine.
Maximum digging depth of 9 ft. 5 in.
6,471-lb. maximum bucket digging force
Two-speed travel with automatic shift down
Electrohydraulic push-button control of auxiliary hydraulics
Proportional pilot joystick controls
Rubber or steel tracks available
Takeuchi Mfg
TXC 420LC-2 Excavator
The 293-hp TXC 420LC-2 excavator features an electronic management system (e-EPOS) that ensures the engine and hydraulic systems share information required to operate at maximum efficiency.
Advanced self-diagnostic technology
93,480-lb. operating weight
27-ft. 8.-in. maximum dig depth
39-ft. 4-in. maximum reach
2.83-cu.-yd. bucket capacity
TEREX
Vi027-5 and Vi035-5 Mini Excavators
The Vi027-5 and Vi035-5 compact excavators are true zero tailswing models in the 6,300- and 7,700-lb. class.
Universal boom with 1.5 times thicker sidewalls offers increased breakout forces with dig depths of 9 ft. 6 in. and 11 ft. 4 in.
Vi035-5 features 28 hp (up 3.3 hp) and is available with optional air conditioning when ordered with cabin
PTO switch mounted on wrist control
Hydraulic quick coupler and VICTAS stability control for added productivity
Yanmar Construction Equipment
XL 4300 III Excavator
The 44,000-lb. XL 4300 III rubber-tired excavator offers the versatility of a tilting (220°), telescoping boom, as well as mobility on and off paved surfaces.
173-hp Detroit Diesel Mercedes engine delivers greater bucket breakout and boom forces
Counterweight and profile reduce tailswing by 12 in.
21-ft. 3-in. digging depth with a 30-ft. 4-in. boom reach at groundline
Electronic joysticks with selectable

Gradall, Deere or SAE operating patterns

Can switch between standard and creeper travel mode while moving
The Gradall Company
ZX12-3 Excavator
The 28,498-lb. ZX120-3 utility-class excavator can generate 24,720 lbs. of drawbar pull and 25,077 ft./lbs. of swing torque with 12,823 lbs. of breakout force.
93-hp four-cylinder Isuzu engine
Can lift 11,443 lbs. over the front at a distance of 15 ft. (blade on ground)
Three power modes, two travel modes and one work mode
Available with an 8 3" or 9 11 arm
20-in. rubber crawler pad or 24-in. or 28-in. triple semi-grouser steel shoes
Backfill blade available
Hitachi Construction Equipment
Companies in this article