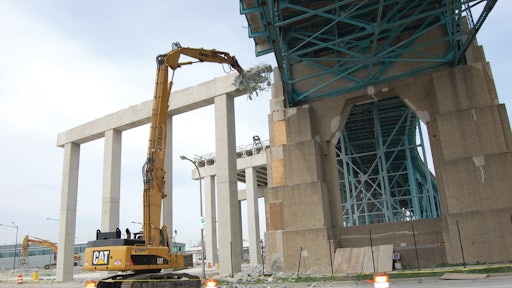 The Challenge:
Remove a 65-foot-tall pier located within a few feet of Detroit's Ambassador Bridge – while keeping the bridge operational during demolition.
The Players:
Adamo Group
C.A. Hull
The Process:
Information from this article was first published in Demolition Magazine and is being reused with permission from the National Demolition Association.
C.A. Hull, a bridge work construction company, recently contracted Adamo Group, a National Demolition Association charter member in Detroit, to remove Pier 19 at the $230 million Gateway Project. Pier 19 needed to come down quickly and with absolute accuracy, so the contractor used the Apex 70 Ultra High Demolition (UHD) Hydraulic Excavator.
The bridge contractor had a small window of time to remove the 65-foot-tall pier located within a few feet of Detroit's famous Ambassador Bridge. Adamo was able to remove the pier in half the time at half the cost of traditional removal methods while keeping the Ambassador Bridge operational during the demolition due to the precision of the 8,000-pound hydraulic hammer attachment.
Adamo Group was the first company in the nation to acquire the specialized and unique Apex 70 which was introduced on the Ford Auditorium demolition site. The Apex 70's 84-foot-high reach boom, tilt back cab, precision hydraulics, observations system and dust suppression system were a few of the features that made the APEX 70 perfectly suited to remove the pier.