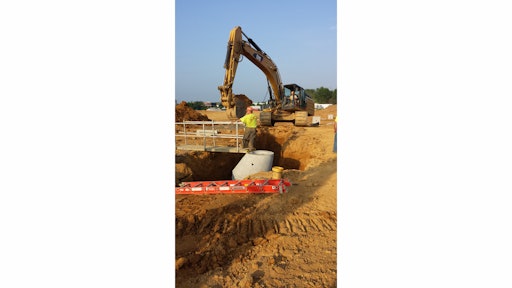 Schlouch Inc. is an early adopter of Caterpillar's 82,000-lb. 336E Hybrid excavator, with one purchased leading quickly to more on rental purchase options. Here's how the eastern-Pennsylvania site-prep contractor partnered with Cat dealer Giles & Ransome to formulate the idea, forecast the return on investment, and manage the risk.
Rising demand for pipelaying encouraged Schlouch to increase its number of dedicated pipe crews from six to ten in the past couple of years, so the company has been buying 80,000-lb.-class excavators.
The contractor's chief operating officer, Don Swasing, calls a quarterly meeting with G&R to discuss what he calls "$100,000 ideas," a meeting designed to get his equipment people together with dealer support just to talk about innovations that can bring big savings to Schlouch's bottom line.
When Cat introduced the 336E Hybrid, G&R salesman, Brian Seaman, proposed it during one of the $100,000 meetings because of its fuel-saving potential.
"We had five or six machines working in our territory that we could compare the fuel-burn data on (using telematics) to a large array of standard 336 machines to be able to estimate the savings," Seaman says.
Schlouch had seven standard 80,000-lb. excavators using seven to nine gallons per hour. G&R's data showed the 336E Hybrids burned four to six gallons per hour working in various applications.
"We figured that at between 4,000 and 5,000 hours on the machine they should be able to recoup the hybrid premium," Seaman says. "Anything after that point is going to lower their owning and operating costs."
"But it's new technology," says Kevin Reimert, Schlouch's equipment manager. "There's not a lot of long-term historical data proving that you're definitely going to get four to six gallons per hour."
"We came up with an agreement to monitor the machine fuel consumption and performance," Seaman says.
With just weeks of using the first hybrid excavator, the telematics data so consistently pegged its fuel consumption on Schlouch's pipelaying crews within the expected range that the company rented two more machines with purchase options.
Schlouch Puts Dealer on its Team to Slash Equipment Costs
Schlouch Turns Vendors into Partners with Care, Trust, Help
Schlouch: Why Price is the Worst Place to Start a Negotiation