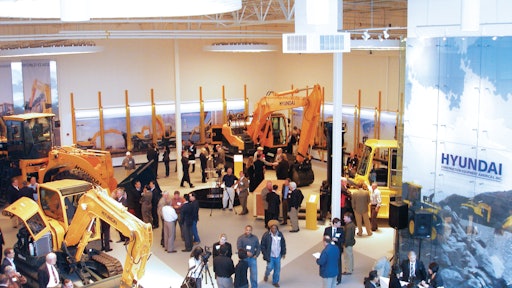 Hyundai took a key step in its corporate quest to become one of the Top 3 global excavator and wheel loader manufacturers over the next five years with the grand opening of its new headquarters in the Atlanta suburb or Norcross yesterday. Hyundai Construction Equipment America's move from Chicagoland includes opening another 150,000 square feet of parts warehouse (HCEA will continue to operate the 40,000 square foot warehouse in Elk Grove Village, Ill., as well).
"We have work to do, but we'r e already No. 1 in 11 countries, and we're probably No. 3 in China," said Kirk Gillette, vice president of HCEA. "The big challenge is to make it here (in North America)."
At the ribbon cutting in Norcross, the HCEA positioned its current North American trajectory as reason for corporate optimism. Sales in the world's largest construction-equipment market grew 84% in 2009 (while the wheel loader and excavator markets grew just 4%), 49% in 2010 (outpacing the market by 15 percentage points), and HCEA anticipates 80% growth for 2011. The American group's forklift business also grew 84%, far faster than the 2010 market.
So as the Americas division executes a $10 million investment in Norcross, adding 63% to its support staff and 40% in value to its part inventory, the Hyundai Construction Equipment (HCE) corporate parent is completing a new manufacturing facility in Brazil and has plans to open plants in each of the next three years; in China, Indonesia and Russia. The company has 2012 plans to extend its backhoe-loader line (not available in North America) and introduce an electrically driven excavator, another hybrid excavator and a hybrid wheel loader (none of which will be seen in North America next year).
John Lim, president of HCEA surprised many at the ribbon cutting by saying that he hopes to add a manufacturing facility in Georgia in three to four years.
HCE operates under its parent company, South Korea-based Hyundai Heavy Industries Co. Ltd. The company was formed in 1991 to focus on the needs of Hyundai's construction equipment market. HCE offers 17 models of crawler excavators, four models of wheeled excavators, six models of mini excavators, six models of wheel loaders, three models of skid steer loaders, and 117 models of forklift trucks. HCE currently operates a production facility in Ulasan, Korea and expects the new location in Georgia to make its markets in the Americas more accessible.