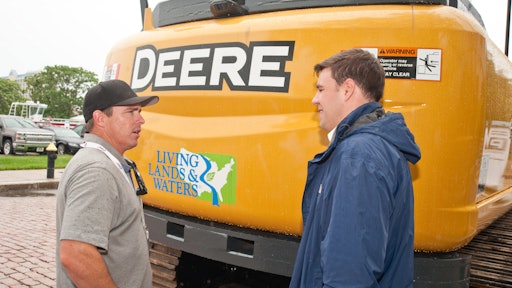 By the end of 2015, more than 1 million lbs. of garbage will be removed from the Ohio River. That feat will be accomplished by Chad Pregracke and Living Lands & Waters, with the help of their new John Deere 210G LC Excavator.
John Deere is a longtime supporter of Living Lands & Waters. This year, the company's Construction & Forestry Division partnered with Pierce Pacific Manufacturing and Erb Equipment Company to design an excavator to specifically meet Pregracke's heavy-duty clean-up demands. The machine was unveiled at the Inland Marine Expo in St. Louis on June 17.
Living Lands & Waters has a big job ahead of them. "In terms of the volume of garbage in the rivers, the Ohio River is one of the worst in the country," said Pregracke. "It really needs a full-court press for any change to happen."
Living Lands & Waters has been working in the Ohio River since 2001, relying entirely on volunteer labor – as it does for all its river cleanup projects – to remove everything from plastic bags to automobiles. But according to Pregracke, they didn't seem to make a dent, and that frustrated him. "I decided we needed to bring in some equipment to make this go faster," he said.
To illustrate his point, Pregracke used the example of a 55-gal. barrel filled with mud – a common item found in the rivers. Removing an item like that often takes a group of four volunteers 30 minutes to free it from the riverbed. The excavator will be able to perform the same task in a matter of seconds. "It's really going to increase the volume and safety of our work," said Pregracke. With that increased productivity, Pregracke set a goal of removing 1 million lbs. by the end of the year.
John Deere has supported Living Lands & Waters through financial contributions, equipment donations and employee volunteering since its founding. The excavator is the largest single donation the company has made to the organization.
"The work that Chad Pregracke does through Living Lands & Waters is nothing short of inspirational," said Mara Downing of John Deere. "We commend Chad and his organization for their dedication to improving the quality of life of those who depend upon our nation's rivers and watersheds."
Pregracke is a native of East Moline, IL, near the John Deere corporate and Construction & Forestry Division headquarters. He started Living Lands & Waters in 1998 as a not-for-profit organization dedicated to the beautification and restoration of America's major rivers and the education of environmental issues. For more information, visit www.livinglandsandwaters.org.
The John Deere excavator will be placed on a barge and will begin working on the Ohio River in early August.
Companies in this article