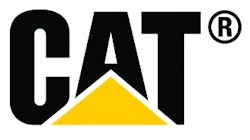 The 313F, 315F, 316F and 318F complete Caterpillar's launch of its Tier 4 Final 11- to 90-ton tracked excavator family.
The 313F complements the 313F GC introduced in 2015. The primary difference between the two models is the level of efficiency - the standard F will do more work per unit of fuel. "When you think of the 313F, think of reliability, durability, low cost per unit of work, proven and highly efficient," says Brian Abbott, worldwide product manager for Caterpillar's small excavator platform. "When you think of the 313F GC, think of the same great attributes with a bit less efficiency plus a lower acquisition cost."
The 315F is a compact radius machine with a front swing radius of 7 ft. 5 in. and a tailswing radius of 5 ft. It can dig, swing and dump within a working space of 12 ft. 5 in. When rotated 90° and working over the side, just 5 in. of counterweight extends beyond the track width, which allows trucks and jersey barriers to be positioned closer to the machine. The boom is positioned toward the center of the machine to help reduce the front swing radius and support more lift capacity over the front due to greater stability.
"Just like all F Series models, the 315F features a ROPS-certified cab," adds Abbott. "With low sound levels, high visibility, convenient access to switches and controls and a fully adjustable seat, operators will find it comfortable to work in all day long."
The 316F, like all other F Series models, is a versatile machine. "It is a nice-size machine for customers who move from job to job every day," says Abbott. "A coupler lets you change attachments quickly, and a wide range of Cat buckets let you dig everything from top soil to harsh, abrasive material to doing ditch cleaning and fine grading. Add a multi-processor or shear attachment to take on demolition jobs. Add a thumb and a rake and you have the ability to move all kinds of debris quickly and efficiently."
The 318F delivers more lift, breakout force and production with larger bucket options than a typical 16-ton machine, yet burns the same amount of fuel. "Customers who move frequently from job to job will prefer a 318 vs. a 320 due to it being easier to transport," says Abbott.
Request More Information
Fill out the form below to request more information about
Caterpillar F Series Excavators