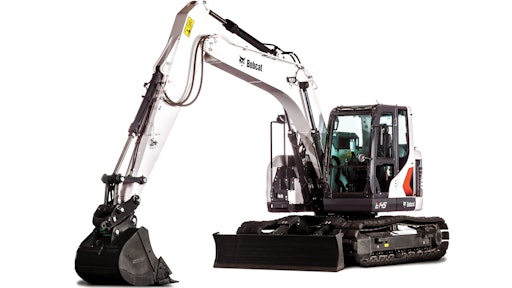 Bobcat Company is expanding its excavator lineup to include a 14-metric-ton excavator – the new E145.
The turbo-charged E145 is ideal for heavy digging and lifting operations on commercial and residential building sites, underground utility applications and road and bridge projects. Featuring a reduced tail swing design, the E145 offers great maneuverability in tight jobsites, enabling contractors to confidently work around obstacles. 
The new E145 excavator complements the performance of 700 and 800 frame size Bobcat compact track and skid-steer loaders, particularly on new residential and commercial jobsites. It's also common for contractors to use both a 14-metric-ton excavator with smaller excavators on construction jobsites. 
Power
Turbo-charged non-DPF engine provides consistently high torque levels, regardless of elevation
Four selectable power models allow E145 operators to adapt to different projects
Power-boost button temporarily increases hydraulic power, when operators need to break through hard ground.
Can be equipped with an optional dozer blade for improved digging stability and leveling ability
Durability and Security
The D-channel design of the E145 upper structure frame adds strength to better withstand side impacts and protect machine components
Hard, wear-resistant wear plates at the attachment connecting pins eliminate side play for extended service intervals on bucket pin-up points
Track pin links are permanently sealed and never need lubrication
An automatic belt tensioner maintains constant tension on the engine accessory belt
Reinforced cast steel pin bosses provide extra strength for the tough working conditions
Offers several features that help protect the machine from theft or vandalism, including passcode protection, a master battery disconnect, lockable panels and lockable fuel fill points
Comfort and Easy Component Access
Pressurized cab features a seamless sound-isolating seal to keep sound levels optimal inside operator station
The large cabin provides visibility for operators to the front and sides of the machine
Other comfort features include an air suspension seat, a premium heating and air-conditioning system, an easy-to-read 7-inch LCD screen, and standard rearview and sideview cameras
Access panels open wide and provide room to reach the top side of the E145 engine and a hinged belly pan allows access from the bottom
Steel side panels provide access to regular daily maintenance items for easy upkeep and more uptime protection
Centralized grease banks can be easily accessed from ground level to make essential daily maintenance quick and easy
Specs at a Glance
Rated Horsepower (Net): 115 hp
Operating weight: 34,987 lb.
Bucket capacity (Heaped, ISO/SAE): 0.55 yd3
Arm digging force: 13,228 lbf.
Rated lift capacity*: 19,270 lb.
Reach: 27 ft. 11 in.
Dig depth: 19 ft. 7 in.
Maximum dump height: 23 ft. 2 in.
Width: 8 ft. 5 in.
Tail swing type: Reduced
*Over front, ground level, 10 foot reach