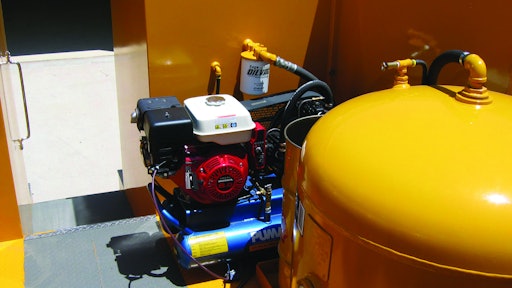 For decades, oil changes have been a rather straightforward, labor-intensive necessity for any well-maintained fleet. Technicians have spent hours on the ritual of removing oil plugs and catching the oil into a container. Then, they unscrew the used oil filters while trying to minimize any spillage. Finally, new oil is added to the engine, often though a funnel.
Drawbacks of this technique include the time involved and the potential for spills during each task, not to mention the risks of working around hot oil or lifting heavy pails. Fortunately, technology can now simplify the oil change process and reduce spill hazards.
Oil change systems come mounted on skids, trailers or trucks, though most contractors invest in lube skids because of their versatility. You can move a skid from one vehicle to another, and easily transport it around a jobsite for quick fills as needed.
"If you break a hose, you have oil to replenish the system when it is repaired and get it back in operation," Robb Hayes, Valley Engineering, points out.
The biggest benefit of such sealed oil change systems is reduced liability exposure. "All it takes is one spill to justify the investment," says Hayes. "The time and labor savings are enormous. The technician doesn't have to fight cans, buckets, etc. Also, we have dedicated waste antifreeze recovery systems so nothing contaminates the jobsite."
Faster, cleaner changes
Every oil change system has its unique features. For example, Valley Engineering uses dedicated pumps for each system. "We don't pressurize any tanks. One thing with pressurizing tanks is there is moisture in air," Hayes asserts. "You have to be careful about filtering the air that you pressurize."
Because new oil can often become contaminated during transport and handling, the company's Lube Mate system provides the option to pre-filter new oil before it is dispensed. "For people that request it, we put filters on for the oil just prior to going through the hose reel," says Hayes. "That allows virtually no chance of contamination. It is clean in case they have contamination upstream."
The Lube Mate can be used with or without quick couplers. "We do like to see people use quick couplers," Hayes comments. "That is quicker and easier, no doubt about it. There would be no spillage when you connect or disconnect." The system does come furnished with a drain pan, since not every piece of equipment will have a quick coupler.
Sage Oil Vac's oil change system lets you change hot oil in a matter of minutes. "The Sage Oil Vac process is completely enclosed when using quick-connect fittings and vacuum filling with the Barrel Straw," says Kevin Baker, sales manager.
Because the system is self-contained, it means no spills or resulting EPA fines. The Barrel Straw and vacuum system eliminate the need for 5-gal. buckets or drums of oil to refill new oil tanks. The quick-connect system creates a tight seal as you vacuum old oil out of the engine and replace it with fresh oil. A Filter Stinger is also available to remove oil from the old filter before it is spun off.
"By vacuuming fresh oil directly into new oil tanks, you can greatly reduce the chance of contaminants entering the oil," says Baker.
Lube trucks utilize small above-deck gas engine-driven air compressors that run 70% less than large engine-driven air compressors running a pumping system, Baker states. "This is an important savings in today's truck engines regarding fuel consumption and diesel particulate filters," he adds. "With skids, Sage Oil Vac designs models that work with a customer's existing air compressor on the truck."
The air compressor creates vacuum and pressure in the product tanks. "Techs utilize vacuum and pressure to evacuate and refill fluids, not air of hydraulic-driven pumps," Baker explains. As a result, the flow of new oil is smoother and more consistent, enabling fresh oil tanks to be vacuum filled at a rate of 10 to 20 gpm. "This is an important savings of time when considering the complete maintenance process from start to finish. New oil filters are standard on all Sage Oil Vac lube equipment so that fresh oil passes through the oil filters before being dispensed."
Once vacuum or pressure is created in the tanks, the air compressor can be shut off or used for other tasks. "Historically, a conventional lube truck engine has to idle during the entire maintenance routine to run the hydraulically-driven air compressor," says Baker. "This requires a lot of cfm and they have to be engaged the entire time the pump is running or fluid is being dispensed or evacuated."
Quick-connect fittings aren't required, but do increase the speed and cleanliness of oil changes. "Oil may be vacuumed directly from the engine pan or crankcase and refilled through the same point to reduce spills," says Baker.
"Different styles of fittings may be used for different fluids to decrease the chance of a mix-up," he explains. "Equipment experiences less downtime since techs don't have to wait for the machine to cool before changing oil. Quick-connect fittings eliminate the chance of stripping the drain plugs or the plugs not being replaced tightly enough."
Simpler shop-based service
ESOC (Environmental Safe Oil Change) offers truck-mounted machines for mobile units, along with stationary machines for inside a shop.
"All ESOC oil change products perform the same process of the closed-loop oil change technology," says Vivek Bedi, managing director. The closed-loop process reduces any possibility of contamination, since no drain or fill plugs are removed to perform the oil change. Quick-disconnect fittings are used on the oil drain pan to remove the oil.
The ESOC Series 875 oil change system simplifies in-shop oil changes by using air to purge used oil from the engine oil filter and passages in the same direction as the oil pump, not exceeding the engine oil pressure. Purge air routed to the inlet side of the filter forces the used oil out of the filter and lubricating passages into the oil pan. Simultaneously, the used oil is being evacuated from the oil pan into a suitable waste oil container.
"The ESOC process purges the old, dirty oil out of the filter and passages safely, along with having the filter removed quickly with no mess," says Bedi. In addition, more oil is removed compared to a conventional oil change method.
The system then fills the engine with fresh, clean motor oil. Fresh oil is introduced through the inlet side of the oil filter, eliminating the need to pre-fill the filter. Lubricating oil passages are filled with fresh, filtered oil, followed by the crankcase. The instant oil pressure you will notice on the onboard oil pressure gauge at startup results in less wear on the engine.
During oil changes, oil samples can be taken, and the technician is free to perform other maintenance tasks. "The ESOC system reduces the downtime of the vehicle or equipment in either a shop or on-site setting because less time is spent on the oil change, hence saving time and money," says Bedi. "ESOC technology can perform a total oil change on a hot engine with a 40-qt. oil capacity in less than 10 minutes."
Valley Engineering's Lube Mate Oil Caddy also simplifies oil drains around the shop. It uses an air diaphragm pump to efficiently drain oil into a self-contained 96-gal. storage tank. Quick couplers on the hose and drain pan come standard, allowing the unit to evacuate or discharge through the same hose and pump via the four-way valve. The system also allows oil filters to be "hot drained" directly into the Oil Caddy storage tank.
"The biggest advantage is safety," says Hayes. Open oil pans are a hazard in any shop. Workers can be injured carrying heavy pans. They can trip, and the exposed oil can even become a fire hazard. "We see a lot of equipment dealer safety managers tell the shop to get rid of those pans."
Clean oil for added life
Modern hydraulic systems are very sensitive to contamination. Any repair or exposure to the elements usually translates into an expensive oil change as you attempt to flush contaminants out of the system.
John Deere designed its Super Caddy specifically for this purpose. It can clean up hydraulic oils in machine reservoirs without resorting to premature drains. "The reason fluids need replaced is because they become contaminated and break down," says Dustin Croft, aftermarket sales support manager, John Deere Construction & Forestry. "By keeping the fluid clean and dry, the Super Caddy reduces the breakdown rate of the oil and helps to extend drain intervals."
The system is used to "polish" hydraulic fluid to extremely clean levels. "It can also be used after a repair is completed to ensure system cleanliness," says Croft.
"We don't want to use the caddy as a vacuum cleaner to clean up all of the debris after a major failure," he continues. "But we can extend drain intervals, certify fluid cleanliness and keep damage-causing contaminants out of the system by implementing a Super Caddy Service. The onboard water saturation and particle counter is what sets this cart apart from the competition. You know that the system and fluid are clean before you deliver it to your customer."
The Super Caddy removes contaminants resulting from external (dirt, moisture) and internal (wear metals) sources. "The caddy has a standard 6-micron beta 100 (99.9% of particles 6 micron and larger are captured) and an optional 3-micron filter to remove harmful contaminants that are microscopic in size but gigantic in impact," says Croft.
Clean oil can be kept in service longer. "Look at a 350D excavator as an example. This machine has 100 gal. of fluid throughout the hydraulic system. If we kept this machine in service for 10,000 hours and extended the fluid drain interval from 5,000 to 6,000 hours, we could change the fluid once during the 10,000-hour period instead of twice," Croft points out. "The delay of fluid change would mean close to $1,400 in fluid savings alone. If cleaner fluid also extended pump life, which we would expect, you would ensure your machine performs like new even with 10,000 hours on the clock."
The payback is dependent upon the reservoir size. "The larger the reservoir, the more compelling the case," says Croft. "With small fluid reservoirs, the cost to use the caddy vs. change the fluid becomes a real toss-up.
"However, it's not just fluid drain intervals that are the real value," he continues. "It is also enhanced machine health and real-time fluid condition monitoring that sell the caddy. You can certify fluid cleanliness levels and know the machine always leaves your shop in better health than when it entered."
Of course, such technology isn't for everyone. "This unit is a specialized tool with advanced monitoring capabilities," Croft states. "If you have a large fleet of machines, [it] is a great tool to have in your shop."
Companies in this article