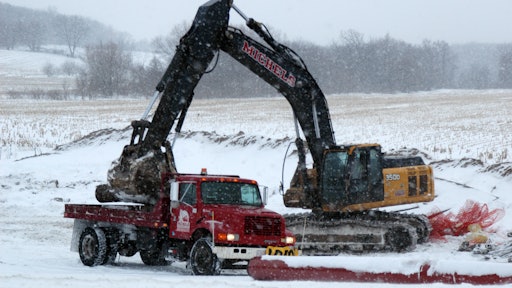 By Ron LeBlanc Sr., Senior Technical Advisor, Petro-Canada Lubricants
The winter months can be challenging for fleet managers as temperatures can fall to extremes, endangering equipment and potentially causing increased downtime. Since it is constantly exposed to adverse conditions throughout the winter, there is an extra strain on construction equipment and its engines and engine oil compared to other industries.
Throughout the year, engine lubrication is crucial for keeping construction fleets working – and even more so during cold periods. Engine oils enhance the protection of vital engine components by minimizing metal-to-metal contact between moving components, while reducing pumping and spinning losses. This helps improve engine performance, efficiency and, in turn, fuel economy.
Temperature Matters
Cold weather means cold engine starts that can negatively impact the engine's wear rate. Because it takes longer to warm up in freezing conditions, the lubricant's viscosity can be adversely affected by cold weather, resulting in delays to proper lubrication of crucial engine components. This can be more acute in construction equipment than other vehicles due to the nature of the equipment, the likelihood of it being left outside and its constant exposure to harsh conditions.
Lubricants have specific temperature ranges for which they are optimal. If you use the incorrect lubricant for cold environments, the oil may stiffen or become overly viscous when temperatures drop and fall into the lubricant's "critical" zone. Because engine hardware is no longer properly lubricated in these tough conditions, equipment can seize up and fail.
To help ensure that the lubricant remains viscous and can maintain its flow in the winter months, it is recommended that equipment owners use a lower viscosity engine oil. Lubricants with a lower viscosity can move around the internal components quicker, maintaining an adequate flow to ensure that the engine is lubricated and protected.
To select the appropriate lubricant, consult the OEM to determine the lowest viscosity grades accepted by ambient temperature requirements. By selecting a lower viscosity solution, the entire powertrain and hydraulic system will be able to operate with improved efficiency. In addition, matching a proper grade of multi-viscosity hydraulic oil can improve fuel economy and power requirements at cold startup.
Multigrade oils such as 10W-30 are popular with fleet operators because they allow them to stock just one product instead of two. These lubricants can operate in both extremely hot and cold temperatures. However, it is important to note that lubricant choice should always be made after consulting the OEM ambient temperature range recommendations as outlined in the owner's manual.
Select Lubricants for Conditions
While cold weather is inevitable in many parts of North America, there's no reason that equipment needs to be at a greater risk from the increased wear of cold starts. Although the seasonal climate may pose a risk, by selecting an appropriate lubricant, engine components can remain in top operating condition and equipment owners and fleet managers can run their jobsites smoothly during the colder months.
By selecting a heavy-duty lubricant that has been tested in extreme conditions, such as DURONTM heavy-duty engine oil, operators can have additional reassurance that their lubricant is tough and durable, and can meet any climate's operating condition – hot or cold. 
Related Content
How Cold Weather Affects Oil Changes