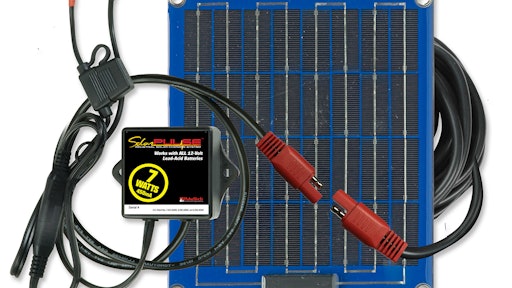 PulseTech's SolarPulse Battery Chargers include the SP-12, 12-Watt SolarPulse Charging System, the SP-7, 7-Watt SolarPulse Charging System and the SP-3, 3-Watt SolarPulse Battery Charging System. The new versions replace the SP-2, SP-5 and SP-10 and offer increased wattage to charge, maintain and desulfate lead-acid batteries in vehicles and equipment stored outside.
The new chargers combine PulseTech's patented, high frequency Pulse Technology with microprocessor controlled intelligent charging algorithms to charge, condition and maintain batteries, extend battery performance and battery life.
The chargers also desulfate battery plates and return batteries to a like-new state.
Works with all types of 12-volt batteries including conventional flooded, gel, AGM and VRLA

Utilizes greater efficiency, higher quality monocrystalline cells

Protected with a clear, polyurethane plastic coating mounted on a laminated aluminum

Weatherproof

Multiple mounting options

Panel dimensions:

4.7 in. long by 9.45 in. wide by 0.25 in. high (SP-3); 8.85 in. long by 10.25' in. wide by 0.25 in. high (SP-7);12.41 in. long by 9.85 in. wide by 0.25 in. high (SP-12)

Request More Information
Fill out the form below to request more information about
PulseTech 3, 7 & 12-Watt SolarPulse Solar Battery Chargers