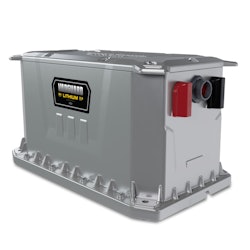 Vanguard
Briggs and Stratton has developed a line of Vanguard Commercial Lithium-Ion Battery Packs, offering both fixed and swappable configurations, that provide power and reduced maintenance for construction equipment. The power provider is also expanding its product line to include motors and motor controllers, offering customers a system package for integration.
"Integrating a power solution into a piece of equipment requires a scalable approach — especially when it comes to electrified equipment. By adding motors and motor controllers to our portfolio, we'll be able to better support original equipment manufacturers (OEMs) looking to electrify their equipment with a powerful complete system," said David Frank, vice president, electrification at Briggs and Stratton. "With this new offering, we are in an even better position to serve as a strategic partner to OEMs as we help them navigate the electrification process and meet their battery power goals."

Motors and Motor Controllers
Vanguard offers OEMs a system package with the introduction of its motors and motor controllers. The MVG and MC Series include different power options to meet voltage needs across equipment sizes. Such products include the MVG1500, MVG2200 and MVG4000 motors and MC2000, MC4000 and MC8000 motor controllers.
With the addition of motors and motor controllers to its product lineup, Vanguard will be able to meet electrification needs across applications, including compact equipment like blowers and walk-behind trowels as well as pumps, sprayers, power rakes and more.

New 24V 3.5kWh* Battery Configuration
Vanguard continues to grow its battery portfolio to include more modular power options and expand application. The latest addition is the new 24V 3.5kWh* Battery, which utilizes lithium-ion chemistry for safe and powerful performance. By offering a battery at the 24V level, Vanguard can help simplify the integration process for existing OEM applications utilizing lead-acid batteries. With the 24V 3.5kWh* Battery, Vanguard is able to serve the construction industry by powering equipment like boom lifts, floor scrubbers, sweepers, cranes and environmental systems.
Applications
Vanguard also offers its 1.5kWh* Commercial Battery (Si1.5). Built to bring versatility and reliability to applications across industries, the exchangeable design of the Si1.5 Battery enables swapping between equipment or equipment and charger on the jobsite. The Si1.5 Battery also incorporates technology elements like the integrated BMS for durability and tough jobs. Designed, engineered and assembled in the United States, the Si1.5 Battery is now available.

Diversified Power Options
Vanguard Commercial Lithium-Ion Battery Packs are a powerful solution, tested to withstand harsh operating conditions. Available in both fixed and swappable configurations, the modular internal components of Vanguard batteries can be paralleled for multiple capacities and voltages to meet varying power application needs. The batteries feature two customizable CANbus networks that integrate with legacy systems. A prequalified and plug-in-ready sharing system can be mounted on- or off-board.
Vanguard is now offering the Fi1.5kWh* Battery — a fixed configuration of its Si1.5 Battery. Vanguard also offers its 3.5kWh*, 5kWh* and 7kWh* Fi Series Batteries, which feature a diecast aluminum enclosure to provide protection for operation in various environments. The 7kWh* Commercial Battery Pack is available in two different fixed configurations to meet different application requirements.
*Total energy measured using a 0.2C discharge per IEC 61960-3:2017
Request More Information
Fill out the form below to request more information about
Vanguard Showcases New Battery Products