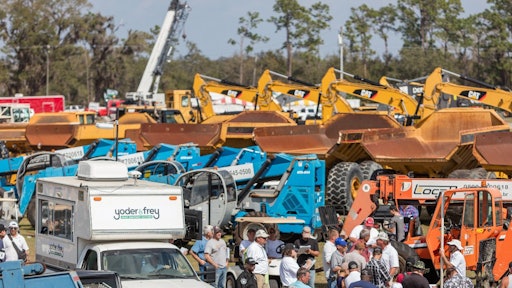 Yoder & Frey, auctioneers of heavy construction equipment, will be hosting what it believes to be the world's largest "Engine Sale," an auction of specialized engines and power plants for heavy trucks and construction machinery, at the upcoming Kissimmee winter sale to be held in Florida February 13-17, 2018.
Over 1,000 pieces are already consigned to the sale, including a growing inventory of diesel engines for trucks and heavy construction machinery and power plants for agricultural machinery and equipment. The inventory includes new, refurbished and second-hand products.
"We're seeing buoyant interest in all our upcoming sales; particularly from operators looking for equipment to extent their capabilities in supporting the massive cleanup operations that are now being implemented in the southern states and right across the Caribbean, following the recent destructive storms," states Peter Clark, CEO of Yoder & Frey. "We are seeing an increase in the quality of equipment being consigned to our auctions and we continue to reap international advantages following our partnership with Euro Auctions at the beginning of the year."
Being part of the Euro Auctions Group global network of companies provides Yoder & Frey with access to a global marketplace in which to promote consignors'  equipment to over 150,000 buyers in more than 95 countries. They can all buy via the Internet through the free to use robust and secure online sales platform that underpins the Yoder & Frey brand.
For further information, visit www.yoderandfrey.com.