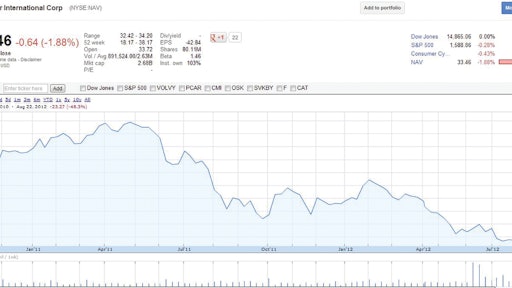 No less than ten law firms have filed suits representing stockholders who allege securities fraud in a federal class action complaint against truck maker Navistar.
Suits in the United States District Court for the Northern District of Illinois are filed on behalf of purchasers of Navistar securities between November 3, 2010 and August 1, 2012. The complaint alleges that the company issued materially false and misleading statements regarding its financial condition and future prospects.
Specifically, the plaintiffs allege that Navistar misrepresented and/or failed to disclose that:
Its attempted methods to comply with Environmental Protection Agency (EPA) diesel emissions regulations had failed and the company would be forced to revise its compliance plan at enormous costs;
Navistar did not have engines available in a timely manner to meet the 2010 EPA standards;
Navistar's filings with the Securities and Exchange Commission (SEC) contained incomplete and misleading disclosures, including statements about the costs of recalls and details of various debts;
And as a result of the foregoing, defendants lacked a reasonable basis for their positive statements about the company and its revenue outlook.
Navistar manufactures diesel engines and trucks under the International brand.
Prior to the class period, the two primary engine technologies that emerged to meet EPA diesel exhaust regulations on 2010 model trucks were Exhaust Gas Recirculation (EGR) and Selective Catalytic Reduction (SCR).
Navistar chose EGR, not the SCR route that all of its competitors were using to meet the new standards, and then represented that the new EGR technology was compliant and the vehicles were ready for sale. By the beginning of the class period, however, the plaintiffs in these class actions allege that this product differentiation strategy was not working.
Despite Navistar's $700 million investment in developing EGR, the company had not even applied to certify an engine to the EPA emissions standard by the start of the class period -- 10 months after the EPA standards became effective.
Plaintiffs maintain that the price of Navistar common stock traded at artificially inflated prices during the class period. In July 2012, Navistar admitted its failure to achieve an EPA-compliant EGR engine and announced that it was adopting the same SCR technology its competitors had been using.
Navistar Plots Course to Selective Catalytic Reduction
On June 7, 2012, Navistar issued a press release setting forth its operating results for its second fiscal quarter of 2012 ended April 30, 2012. The press release disclosed that the company had incurred a loss of $172 million due in part to "a warranty reserve to repair early 2010 and 2011 vehicles." The company also filed a quarterly report on Form 10-Q, in which it announced that "[w]e have not yet been able to obtain 0.20g certification for any of our [heavy duty diesel] engines."
In response to this news, Navistar's stock price fell $4.04 per share, or 14.35 percent.
When, on July 6, 2012, a Navistar press release disclosed that the company was abandoning EGR in favor of the SCR technology all of its competitors had been using to meet 2010 EPA emissions standards, Navistar's stock price fell $4.37 per share, or 15.18 percent.
Finally, on August 2, 2012, Navistar issued a press release announcing that it was withdrawing its fiscal 2012 guidance until the release of its results for the third fiscal quarter of 2012. In that release, the company also revealed that it had received a formal letter of inquiry from the SEC connected to its investigation into various accounting and disclosure issues. The price of Navistar's stock fell another $3.33 per share, or 13.44 percent.
Plaintiffs seek to recover damages on behalf of class members and are represented by
Companies in this article