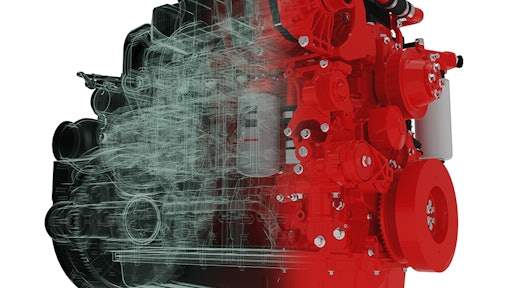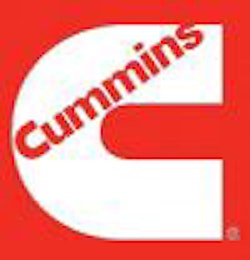 The opening day of Intermat 2015 highlighted a strong presence of Cummins engines in equipment meeting low emissions requirements in the 75- to 751-hp (56-560 kW) power category. Cummins power was featured in a variety of machines, from site dumpers to excavators, cranes to compressors, forklifts to compactors, and wheel loaders to road milling machines.
The engines are also featured in the Cummins booth (L028, Hall 5b), which showcases a 49- to 675-hp (37-503 kW) engine range compliant with Tier 4 Final and Stage IV regulations. The engines have been specified for over 400 machine integration projects by almost 70 equipment manufacturers.
The lineup includes the four-cylinder QSF2.8 and QSF3.8, targeted toward compact equipment, along with the new QSG12, providing heavy-duty power for high-output machines. The engine lineup also includes the mid-range QSB4.5, QSB6.7 and QSL9, together with the top-of-the-range QSX15. Cummins' portfolio of key enabling technologies will also be showcased, with complete air intake-to-aftertreatment exhaust-out systems and components.
The component technologies being unveiled for the first time at Intermat are capable of improving the fuel efficiency of modern diesel engines by at least 10% while also improving emissions reductions performance.
Cummins Turbo Technologies unveiled its Next Generation Holset VGT, designed to improve turbo efficiencies and deliver greater fuel economy. This latest innovation in VGT technology offers multiple benefits, such as enhanced integration with the engine system due to a new actuator, improved durability, and optimized performance through the patented moving-shroud variable geometry mechanism. The Next Generation series 300 variable geometry turbocharger is capable of improving turbo efficiencies by up to 12% at low engine speed, as well as delivering reduced carbon dioxide emissions. In addition, this latest solution is 10% lighter than its existing counterpart, creating greater fuel economy.
Cummins Emission Solutions introduced the EcoFit Single Module, the first of its next generation of aftertreatment platforms for future emissions regulations. This platform product is a potential solution designed to meet Stage V requirements in a small, lightweight, simple and robust advanced aftertreatment system package.
The EcoFit Single Module, designed for heavy-duty and mid-range engine applications, is up to 60% smaller and 40% lighter compared to today's combined Selective Catalytic Reduction (SCR) and Diesel Particulate Filter (DPF) systems while achieving advanced emissions reductions levels. The system enables easier equipment integration for OEM customers, and its lower weight minimizes the impact on equipment weight, which will contribute towards improving fuel economy.
Advancements in catalyst technologies are enabling efficiency improvements throughout the entire system, and Cummins Emissions Solutions has invested in DPF technologies with higher ash capacities, allowing for more time between cleaning intervals for its customers. The SCR catalysts, coupled with the EcoFit UL2 Liquid-Only Urea Dosing System, offer enhanced oxides of nitrogen (NOx) reduction, and, linked with improved thermal management capability, deliver the optimum solution for emissions reduction and minimized fuel and Diesel Exhaust Fluid (DEF) usage.
Other component solutions being introduced to the construction market for the first time included: Electric Wastegate Turbocharger, Electric Waste Heat Recovery Turbine Expander, Next Generation EnviroGuard Crankcase Ventilation Technology, Next Generation Heavy Duty Fuel Pump and the CorePlus Flywheel Motor Generator.