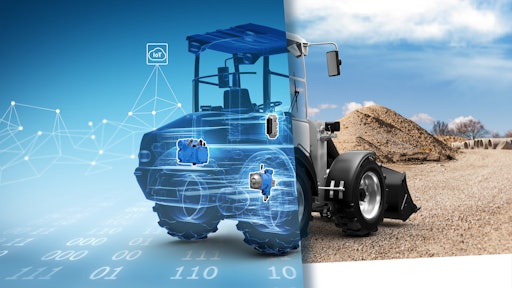 Bosch Rexroth
These days, almost every component and system in a piece of heavy equipment is becoming more intelligent through the incorporation of sensors and the Internet of Things (IoT).
"The core vision of IoT for mobile machines is about implementing digital technology to capture actionable data about the performance of mobile machine systems autonomously, do it in real time and deliver it to machine end users and OEM suppliers so they can maximize the uptime and flexibility of their machines," says Terry Hershberger, director, Sales Product Management & eSystems, Bosch Rexroth.
In hydraulic systems specifically, there are two major trends driving increased intelligence, says Ben Hoxie, director of engineering, power and motion controls at Eaton. The first is distributed intelligence enabled by low-cost computing and sensing, which gives rise to all types of new machine functions. Eaton refers to this intelligent machine movement as Dynamic Machine Control.
The second key driver is "a step change in connectivity" through mobile and industrial communication protocols that can cost effectively transmit significantly more data. "This improved connectivity is enabling big data innovations that will yield new insights into how machines operate and the behavior of machine operators," says Hoxie.
Automation is also driving the push toward increased intelligence. "Digitalization of the machine by incorporating robust controllers, sensors/feedback devices and the connectivity unit provides for additional workflows or other apps that could allow for remote-controlled worksites to be managed more safely," says Hershberger. "A fleet manager could control an area that the vehicle is allowed to operate, and of course provide for diagnostics of the system. However, it is not without challenges."
Overall, creating more intelligent systems helps improve safety, productivity and cost of operation through better machine control, says Hoxie. "One example of how an intelligent hydraulic system has delivered such benefits is our Boom Stability Control solution. By reducing boom oscillation up to 75%, the system delivers both safety and productivity benefits to end users," he explains. "Another example is auto-guidance steering solutions. Eaton's system combines our GFX GPS receiver, SFX safety-rated controller and SBX advanced steering valve to enable automated and semi-autonomous vehicle steering operation."
Methods for Adding More Intelligence
There are a variety of ways manufacturers are creating smarter hydraulic systems, including incorporation of more sensors and software.
The Bosch Rexroth Digital Application Solutions (BODAS) portfolio of IoT solutions, software and electronic hardware exemplifies the digital enhancements the company is making for off-highway equipment. "Together with Bosch, we also offer the suitable IoT infrastructure and cloud-based analytical apps," Hershberger says. "It combines competence and application experience in the decisive fields of mobile hydraulics and electronics, edge analytics and IoT."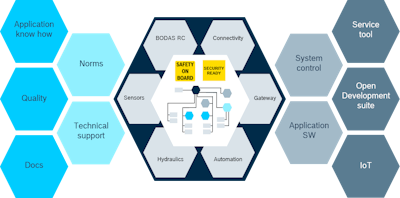 In general, the company has enhanced the integration of sensors where necessary in order to provide real-time data on hydraulic performance metrics. In addition, it is engineering its digital technology offerings — including hardware, software and connectivity and analytical systems — to work together as complete solutions.
Hardware options include an open, scalable and freely accessible mobile electronics platform which consists of control units, connectivity devices, sensors and human machine interface (HMI) components such as joysticks and displays. Bosch Rexroth's software is modular and includes tools for programming, parameterization and diagnostics, and is based on deep insight into hydrostatic and electrohydraulic functions, says Hershberger.
"The fundamental building blocks of IoT are the 'things'," says Hoxie. As such, Eaton is developing a suite of intelligent devices such as its CMA valve with deeply integrated sensing and control. Its AxisPro valves feature onboard white space which allows users to build application-specific solutions and thus tailor the valves to the needs of the machine design.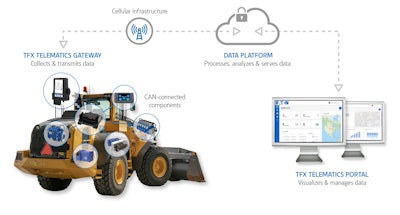 "We're also continuing to build upon our Pro-FX suite of controls and software solutions," Hoxie continues. "This library of machine control function blocks enables quick and easy system development and tuning to match machine builders' needs. Finally, on the connectivity and cloud storage side, our TFX telematics solution enables machine builders and fleet managers to monitor, upgrade and diagnose their machines, all remotely."
Sensors Extend to Fluids and Filters
For its Filter Minder technology, Donaldson Co. Inc. has developed sensing and analytics solutions to enable accurate monitoring of filter and fluid life. The biggest advancements to date for its air filter monitoring solution have been around enhancing analytics capabilities to help users make better sense of the data that is aggregated, says Nate Zambon, director of Filter Minder at Donaldson.
Now the company is focusing its efforts on liquid filter and fluid monitoring, such as for hydraulic filter and hydraulic oil condition monitoring. "Coming up with the intelligence and algorithms [for] fluid condition monitoring is more complex than air filtration monitoring," says Zambon.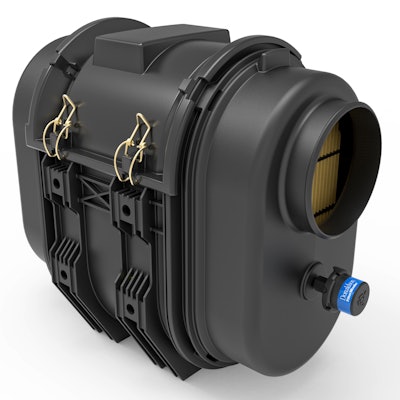 Determining end of life for an air filter is a bit simpler because it is largely based off when there is a pressure drop, which can be measured by pressure sensors. However, there are a variety of different things that can indicate when oil is at the end of its life or if there are contaminants within it. This requires different combinations of experiments and tests to validate and characterize oil life cycle, making the development of sensors and analytics for doing so more complex, says Zambon.
"We've really been making a very strong push leveraging Donaldson technology teams, and have some external partnerships that we put in place to support our development of those capabilities within Donaldson," he adds. The company is also scaling out field testing, "because ultimately, in the field is where you prove the viability of the technology."
Security and Other Challenges Remain
The expansion of intelligent machines requires skills in systems engineering, mechatronics, embedded controls, software engineering and data science, which can be challenging for machine builders to acquire. "It is no longer enough to know how to integrate hydraulic components. Machine builders need to excel at bringing together mechanical, electrical, electronic and software domains to deliver top performance," Hoxie points out.
Because of this, Eaton is developing technologies like its Pro-FX portfolio, consisting of smart components, controllers and software designed to enable easy integration into machine designs. "By leveraging an open architecture platform, Eaton simplifies the machine control challenge while ensuring the machine builder has the control and flexibility to differentiate their machines," says Hoxie.
Offering a suite of technologies as Eaton and Bosch Rexroth do allows OEMs to get the majority, if not all, necessary components from a single source. This helps ensure components will all work together as needed. It also simplifies and reduces design time.
As the demand for more intelligence and automation progresses, device reliability and security as well as machine safety monitoring and software management are challenges that will also need to be addressed.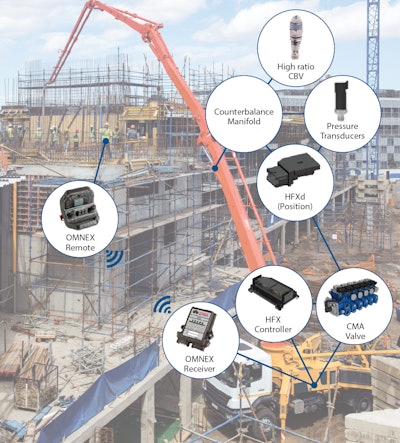 "When we start to work in this connected world, no one envisions their machine could be hacked by someone in cyber space, but it is real and your controllers, sensors and connectivity devices need to be protected," says Hershberger. "Imagine in the middle of a software update that the communication link is hacked and the wrong information is loaded on the controller. This could lead to unexpected movement or operation of the machine, or possibly the machine is inoperable and not usable. Additionally, unauthorized connection to the machine that allows for operational parameter changes could cause unexpected operation."
To help overcome these challenges, Hershberger says it is necessary to incorporate hardware security modules into controllers or certify components to certain performance levels. In addition, there must be cloud security and IT infrastructure in place, as well as methodologies to "push" software updates to machines when they are in a safe state. "It is not only the management and transmission of data; it is how that connectivity device and the background infrastructure is put together in what we call device management that is critical," he states.
Machine connectivity and the vast amount of data that can be collected and transmitted also poses challenges. "Intelligent, useful, big data is expensive and may be cumbersome to manage but ever so important when we talk intelligence," says Hershberger. "Therefore, a continuing challenge is one of data compression and filtering out and sending the relevant actionable data." This is key with the connectivity device, and an area Bosch and Bosch Rexroth are working to overcome through the use of Edge Analytics.
The end user of a machine may be driving the adoption of connectivity and data, but may not be focused on the associated challenges, Hershberger acknowledges. So, it is up to the OEM and solution supplier to be prepared to provide a reliable, robust and state of the art system.
A Pandora's Box of Opportunity
The recent acceleration of IoT and connectivity is the next step in the ongoing journey toward ever-smarter machines. "Starting from the first electrohydraulic machines decades ago, the industry has been on a continuous journey of ever-more capable machines," Hoxie comments. "Over the last decade, we have seen driver-augmented and semi-autonomous agriculture, construction and material-handling machines move into the mainstream. Even now, our industry is on the verge of fully autonomous mobile machines."
As such, he says Eaton is ready to help both OEMs and end users embrace the opportunity for continued progress.
Hershberger says the ability to connect to machines remotely opens a "Pandora's box of opportunity." This can be seen through fleet management functionalities such as geo-locating and viewing operational data or diagnostics. "With sensors, machine monitoring controller data or critical machine information, the ability to inform the owner of the machine about when a filter needs to be replaced or an indication of a problem on the machine is at their fingertips," he points out.
As technologies continue to advance, so will the intelligence and capabilities built into components and systems. "Instances of upgrades to a machine with flash over the air or changing parameters on the machine to enhance operation for the environment the machine is working in will be commonplace," he predicts. "The connected machine will become more and more normal."
Companies in this article