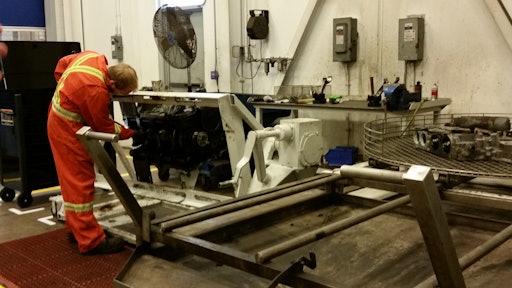 Liebherr-Canada Ltd. remanufacturers Liebherr components for Canada, the U.S. and Mexico. Its remanufacturing department (REMAN) offers a variety of solutions for customers, including exchange, overhaul and rebuild or repairs.
"This has had a positive impact not only on the environment, but is also cost efficient for our customers," Tim Peterson, managing director, Liebherr-Canada Ltd., Burlington, told journalists attending the Liebherr's 2018 Information Tour for the International Construction Trade Press.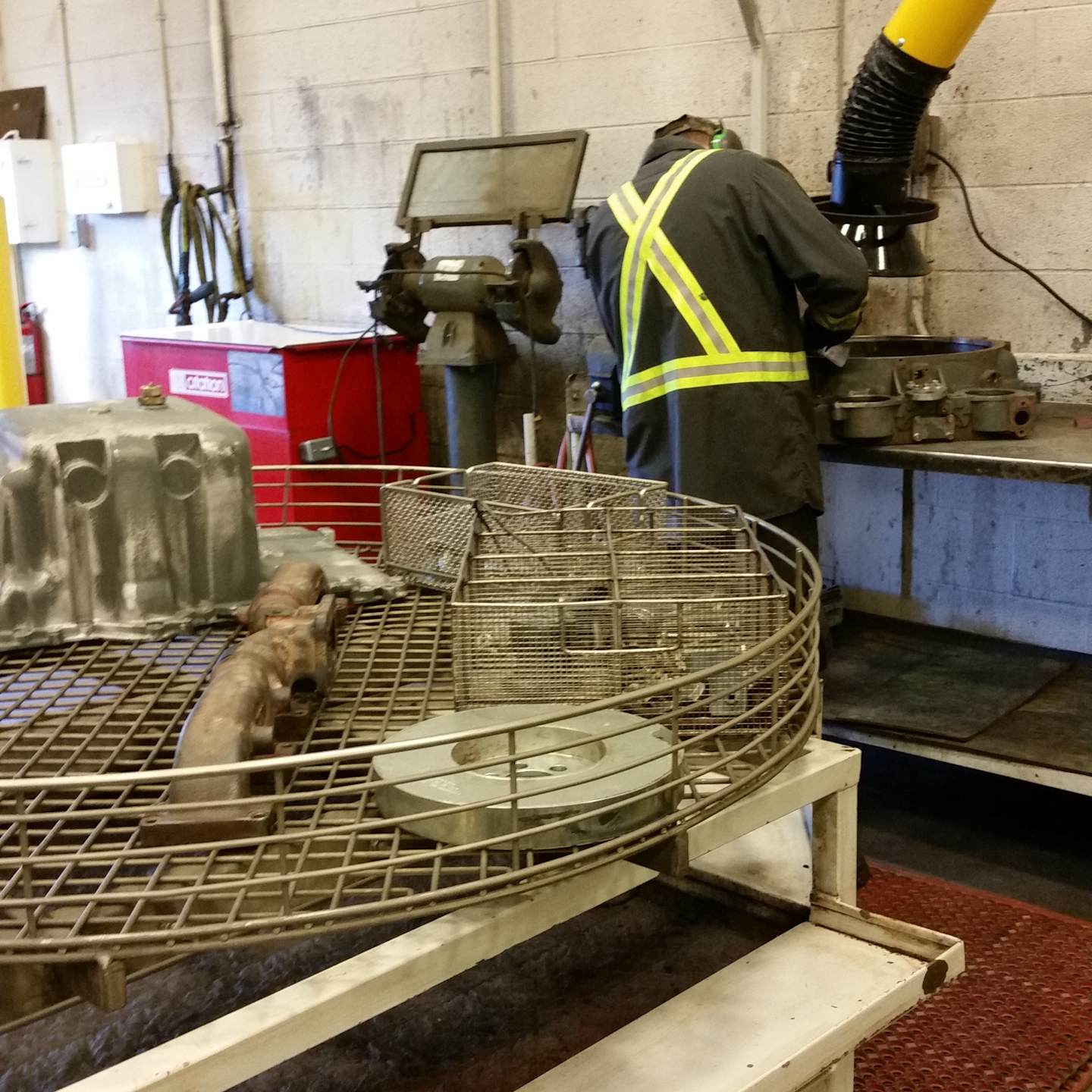 The REMAN facility in Burlington, Canada, was recently upgraded with a special contamination-free environment and equipped with:
component-specific assembly stations,
a new state-of-the-art computer-controlled dyno,
hydraulic test areas,
and paint booth.
These upgrades will help the facility to maintain high quality control for its customers. 
"Over the last five years, we've upgraded and expanded our Mining REMAN facility in Alberta, the Burlington REMAN facility, and our Newfoundland branch is undergoing an expansion as we speak," said Peterson. 
The Burlington location also preps new and used equipment for sale and performs repairs on customer equipment.
Another focal point of Liebherr-Canada's activities is the training department. "We offer our customers a wide variety of training courses in our new Liebherr-Canada classroom training facility, as well as through our mobile technical training team," noted Peterson. "They cover everything from service systems training, contamination control, fundamentals of electronics, hydraulics and powertrains, after-failure analysis training, as well as product-specific service training." 
Sales, Service and Support to Key Customers
Liebherr-Canada provides sales, service and support to key accounts throughout Canada and North America. One such account is American Iron & Metal (AIM).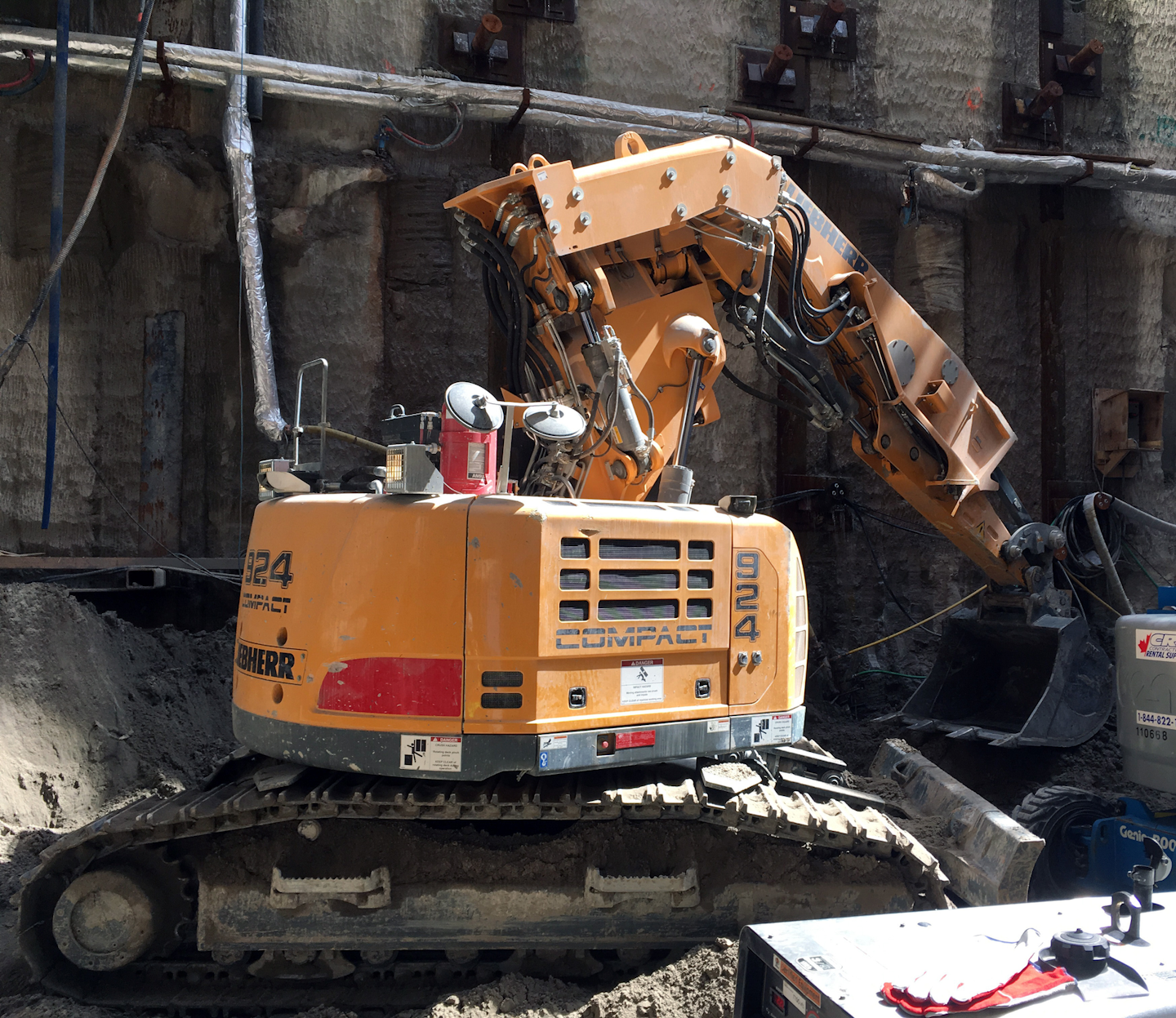 A Liebherr R 924 Compact tunneling machine shown at work on part of the 25-year, $50 billion transit expansion project in downtown Toronto.
"As one of the leading metal recycling facilities in the world, we are happy to say that they operate a fleet of more than 100 Liebherr material-handling machines," Peterson pointed. Journalists had an opportunity to tour the Hamilton, Ontario facility to see two of these machines in action. "Liebherr-Canada has built this longstanding relationship with AIM over the past 20 years and are proud to call AIM a partner."
Liebherr-Canada is also supporting part of a major transit expansion in downtown Toronto, which journalists also toured. "The complete project will add 43 km of much needed rapid transit to Canada's largest and busiest metropole," Peterson explained. "We are proud to say that almost all divisions of our business are involved in this construction project at one point over the estimated 25-year-long and and $50 billion plan to improve the region's transportation system. Our mobile, crawler and tower cranes, deep foundation equipment, earthmoving machinery, as well as our expertise in leveling subway trains have all been involved in this project to date."