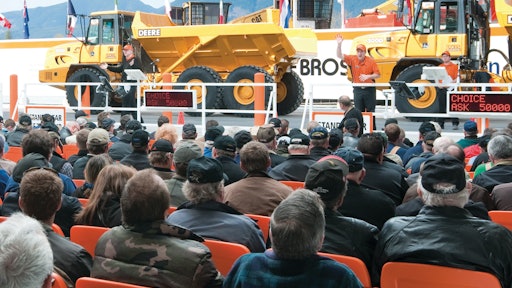 Manfredi & Associates, Mundelein, IL, recently conducted an in-depth, 117-page study on the impact of emissions regulations on equipment sales and prices – titled Quarantined Markets. While the author, Frank Manfredi, acknowledges that the term 'quarantined' sounds alarmist, it was used to bring attention to the changes resulting from EPA emissions regulations.
Manufacturers have spent billions to meet EPA emissions targets for diesel engines, which has driven up the initial price of the engines. But the higher costs are not only for the engines themselves, but also for the redesign of the engine compartment to make room for the aftertreatment devices and for more cooling capacity. Many equipment manufacturers have also taken the opportunity to redesign models from the ground up and upgrade performance features as well. The net result is Tier 4 equipped machines are approximately 15% to 20% more expensive to purchase.
The higher retail prices impact life-cycle cost calculations. New equipment prices are important because they directly impact the ROI. Prices have an even greater importance on equipment rental companies because they affect their ROI throughout the useful life of the product. The residual value of the product is almost of equal importance when the rental company sells the product. Equipment rental companies must be able to offset the higher machine prices with higher rental rates in order to make economic sense. Prices of used machines have risen steadily for the past three years as equipment owners, including the major rental companies, scrambled to buy up low-hour units equipped with Tier III engines.
uLSD changes the game         
In addition to the emissions regulations on the equipment, the U.S. Federal government mandated that petroleum refineries produce diesel fuel that contains far less sulfur than in the past (known as ultra Low Sulfur Diesel – uLSD). New emission-compliant engines are designed to use uLSD. Using high sulfur fuel will cause severe problems with the emission devices and may even damage them. uLSD is only available in so-called 'regulated' countries and is available in some urban markets in Latin America, but is not likely to be available outside those urban markets in the near future.
A significant amount of North American used equipment is sold to overseas customers in less regulated countries where uLSD is not readily available and is not likely to be available in the foreseeable future. If those markets are no longer available then the supply of used equipment will increase and equipment prices will be adversely affected.
The U.S. equipment market for new equipment requires a reliable outlet for used equipment that is taken in on trade for new machines. Exports provide the U.S. market with an outlet to make way for new equipment purchases. Without an outlet, the system will become clogged with used equipment.
This could result in declining residual values, which will impact the whole lifecycle of a machine. It will have the greatest impact on residual values that are used to establish machine rental rates, equipment finance payments, bonding capacity for contractors, collateral for equipment loans and for bonds that are collateralized with machines.
Removing emissions equipment through de-tiering kits is possible, and the kits are available, although it is illegal to do so for machines which will be operated in the U.S. Using lower grades of fuel in Tier IV engines is possible by replacing injectors, lowering the injector pressure and readjusting the engine's computer. When engines are modified in this manner the horsepower is reduced so the machine may not have the same performance characteristics as the original machine.
Undoubtedly specialists will emerge who will remove the emission devices for a fee when they are sold into less developed countries. If the devices are removed, it will result in an added expense to machines that are already 15% to 25% more than machines without emission devices.
Export markets impact residual values
In industrialized countries it has been typical for new equipment buyers to dispose of their used machines by trading them when they purchase new ones. For example, Manfredi & Associates believes that the U.S. has a working population of approximately three million units and that 20% to 30% of those are sold annually as trade-ins or otherwise disposed of, a total of between 600,000 and 900,000 units.
Many used machines end up in overseas markets through several channels. There are international brokers who have developed a clientele in other countries and take orders for certain brands of used machines, buy them in the U.S. and then ship them to their clients. Some equipment dealers, especially those located on the East Coast and the West Coast, also engage in brokering machines for overseas customers either from their trade-in inventory or by actively searching for machines for specific overseas customers.
In the past 15 years equipment auctioneers such as Ritchie Bros., Alex Lyons, Yoder & Frye, as well as online auctioneers such as IronPlanet have attracted many export buyers, especially from Latin America. Of the 600,000 to 900,000 machines that change ownership annually, Manfredi & Associates believe 180,000 to 270,000 are sold annually at auctions.
Manfredi & Associates has also determined that an average of 10% of all of the machines sold at all auctions and 15% to 20% of all machines sold at the annual Florida auctions are sold to purchasers from Latin America. In total, 18,000 to 27,000 used machines are sold annually to Latin America.
Industry evolves as regulations take hold
Given the higher purchase price and questions regarding residual values, the regulations are creating distortions in the marketplace as users learn to cope with them. Some equipment owners are rebuilding the engines of older machines that are not equipped with the new emission devices. Contractors that own large fleets and other large fleet owners such as equipment rental companies are purchasing low-hour used machines that are not equipped with emission devices and are rebuilding the old engines when necessary. Manufacturers are de-rating machines in their smaller products in order to fit them into lower horsepower categories where the regulations are less strict (under 75 hp). Several engine manufacturers have succeeded in developing engines that require no particulate filters.
It is a learning environment for all parties involved in the machinery business. For example, used equipment buyers must be much better informed about the emission devices on the various brands and models of machines they are considering. This is especially true for buyers who purchase machines at auctions.
Manfredi & Associates estimate the U.S. EPA regulations will result in a reduction in the quantity of used machines exported and sold to less regulated countries. A reduction in the quantity in exports will result in an increase in the supply of used machines in the North American marketplace of between 15% and 20%. There is a direct relationship between equipment supply and prices. It has also concluded that a surplus of used machines will result in a decline of between 15% and 20% in the prices of North American used machines equipped with emission compliant engines.
If used Tier IV Final machines are to be sold in Latin America, they will require uLSD to operate properly. There are some who say the U.S. emission devises can be disabled by a simple change to the engine computer and by removing the SCR and particulate filter, making them salable in those markets.
According to Manfredi & Associates this could still be a challenge because the initial purchase price of U.S. machines equipped with Tier IV Interim and Tier IV Final is considerably higher than used Tier II machines from the U.S. or new Tier II and Tier III machines that are being imported into Latin America and sold by Chinese manufacturers. The only way to compete in a competitive market like that is to reduce the used selling prices. Lower prices will result in lower residual values.
Manfredi & Associates believe the U.S. EPA regulations will disrupt the traditional flow of used machines to Latin America and other markets where Tier III machines are acceptable. The interrupted flow will lower used equipment prices and thus increase the cost of ownership to North American users of the vehicles by 15% to 20%.
Adjusting to the pricing structure
North American equipment owners will begin cost-shifting to offset the rising expenses. An equipment survey by Manfredi & Associates indicated equipment owners must mitigate the higher initial price of Tier IV machines and higher cost of fuel and maintenance. More than half of the respondents indicated that the new machines must be 20% or more productive to offset the higher prices. Some respondents said they will shift the risk of lower residual values to others by leasing and renting more and by hiring more specialty subcontractors to do work their companies normally have performed in the past. And equipment rental companies indicated they will increase their rental rates to offset their higher costs.
Tier IV regulations may impact new sales as well. Equipment users told Manfredi & Associates they will extend the life of their existing Tier III machines by rebuilding them for as long as possible. In addition, they will search for 'good' used Tier III machines and add them to their fleet. They will also seek out remanufactured Tier III machines
A large percentage of equipment user respondents told Manfredi & Associates they plan to avoid purchasing Tier IV Interim machines and wait for the Tier IV Final versions to arrive on the market. Overall, it appears the strategies employed by equipment users to mitigate the impact of Tier IV regulations will result in 2013 and 2014 new machine sales that are below trend.
EPA horsepower break points in the emission regulations could have a profound impact on equipment sales. Gasoline powered machines may become more popular, especially in under 50-hp applications and in certain markets such as the small contractor and the independent rental company market. Also expect equipment manufacturers to sell more machines than previously in the less than 75-hp category because the Tier IV emission regulations are not as onerous below that horsepower. Manfredi & Associates is already seeing some manufacturer de-rate engine on existing models so they fit in under the 75-hp category.
For a copy of the complete report, which also includes analysis of the truck market, contact . . .