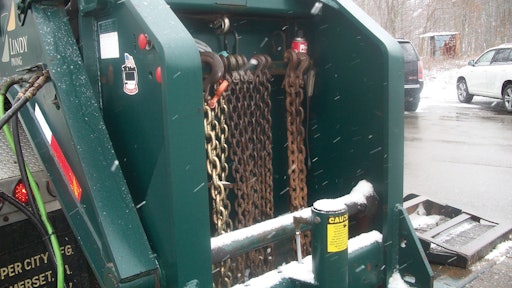 When Tim Lang, equipment manager from Lindy Paving Inc., read an article about an advanced corrosion prevention metal treatment from PRP Industries Inc. called Corsol, Lang asked his trailer manufacturer to apply it to the flatbed he intended to purchase. That was in 2007.
Three winters later in October 2010, Lang observed that the Corsol-applied flatbed had no paint flaking, bare metal, rust or blistering bubbles, while his other three-year-old trailers needed complete paint refurbishment. 
Phil Pierce, president of PRP, noted that managing and extending equipment total lifecycles is a growing trend. "Fleet managers no longer have the luxury of trading in trailers after seven or eight years - they are being told to make equipment last twelve years, on nominal maintenance budgets," said Pierce.
"Corrosion is one of the most costly expenses because it can wreck entire underbodies in a few short years. Fleet owners who specify Corsol with OEMs are increasing trade cycles and saving thousands of dollars as a result."
Blasting and repainting his used flatbeds has previously cost Lang about $9,000 per trailer every three to six years. Lang figures with flatbed pre-treatment, proper maintenance and regular cleaning the company may not need to repaint the flatbeds at all during their 12 to 15 year lifecycles. Even after the OEM's upcharge to spec the metal treatment, Lang estimates that Corsol advanced metal treatment could actually save his company an average of $24,500 per trailer over the equipment's lifecycle.
The success of PRP Industries' pretreatment specifications lies partially with the unique characteristics of Corsol -- it mechanically bonds to steel so it doesn't blister or undercut.
PRP Industries conducts a full evaluation of the OEM's products, processes, equipment and staff. The company then customizes an engineered paint solution and integrates the results with their proprietary coatings and chemicals to realize their clients' desired end results, such as cost savings, increased quality or production speed, and reducing VOC's or dry time.
PRP's Pierce points out that many paint companies are sales- and commodity-driven, relying on quick and easy lab tests to wholesale paint. In contrast, PRP employs engineers who act as "general contractors" to explore the sources of paint problems, recommend solutions, develop a plan, oversee the paint operation, and provide continuing inspections. Like a general contractor, PRP Industries evaluates an OEM's needs, develops the paint process blueprint, installs equipment, oversees the process, and takes ownership of the end results.
"Many manufacturers don't have the resources to employ experts in the fields of chemistry, paint equipment, paint formulation and equipment integration," said Pierce. "And with environmental regulations constantly changing, it is difficult to keep technologically current. We take responsibility for controlling the cost and performance of the total coating system, not just a fraction of it. As a result, our approach delivers greater efficiency and cost savings by avoiding many expensive production, application and warranty problems."
Pierce says that OEMs, aftermarket parts suppliers, fleet buyers, managers, users, testing engineers, and paint professionals need to work together.
"Change and collaboration may seem daunting or prohibitive at first glance, but that's only if you are thinking short-term," said Pierce. "Often times, integrating a product such as Corsol into the manufacturing process will actually lower per-unit costs, increase durability, and grow revenue due to satisfied customers and increased warranty protection. Additionally, flatbed manufacturers using Corsol are able to compete strongly against galvanized flatbeds and keep profits in-house," he stated.
According to Pierce, constructing a PRP Industries paint booth or coating line helps OEMs make a better product at less cost for the buyer, because of the labor and time savings they gain per unit. The paint equipment booths can be set up to serve the aftermarket for virtually any size operation or budget.
Companies in this article