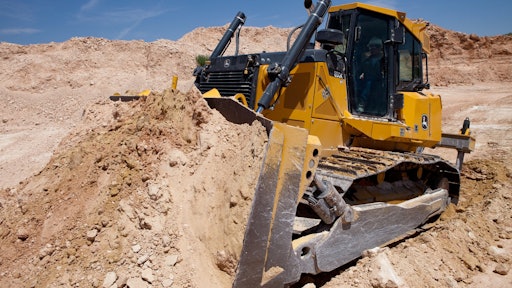 It's costly enough to replace a dozer undercarriage when it has served a long, useful and expected life. Having to replace it early because of premature wear can be both frustrating and expensive, especially considering that its price tag represents the greatest percentage of owning and operating costs for the machine over its lifetime.
"There is no one solution to prolonging the life of an undercarriage," says Mark Oliver, product marketing manager for crawler dozers/crawler loaders, John Deere. "However, there are a lot of basics that hold true."
Revisiting the basics is especially timely given the changes that have taken place in the construction industry over the past number of years. "From an operator perspective, a lot of the talking points we discuss today are the same talking points we addressed years ago," Oliver says. "The basics haven't changed. But what has changed is the ability to attract and retain skilled operators.
"It used to be the most skilled operators on a jobsite ran dozers, motor graders and excavators because that's where the expertise is most needed," he continues. "However, over the last couple of decades, very good, skilled operators are harder to come by. That makes discussing the basics of undercarriage maintenance and dozer operation return to the top of the list when a machine is delivered to a customer. We can no longer assume that one of the best operators will be running that dozer. That means it's important to get back to the basics of how to maximize undercarriage life."
Basic Rule #1 - Maintain proper track tension
"There is a direct correlation between track tension and track wear," Oliver points out.
Reference the operator's manual for track tension recommendations and check tension at the beginning of each shift. Follow the guidelines since too much or too little tension can cause premature wear, as well as potential failure.
"When the tracks are too tight, it creates added load on specific contact points, such as the bushing to the tooth at the sprocket, the chain link to the roller and the idler to the chain, all of which can accelerate component wear," says John Bauer, brand marketing manager, Case Construction Equipment. "A track that is too tight also robs the machine of its power as it actually takes more effort to turn the track."
Conversely, too little tension causes the track to sag, creating too much slack and possible premature failure, explains Jonathan Tolomeo, product marketing manager, HST crawler dozers, Komatsu America Corp.
"If a track is too loose, it can also create instability and potentially cause the tracks to derail," adds Bauer.
Track tension can be affected by operating conditions — in particular, those where debris can get caught in the track and ultimately tighten the tension.
"Evaluate jobsite conditions and the material you are running in," says Oliver. "If you know you are going to be operating in an environment where you have material that collects in the undercarriage throughout the course of the day, you might want a little more track sag at the beginning of the day so as the material packs in, it still maintains optimum tension."
Because conditions can change throughout the course of the day, Bauer suggests checking track tension when the machine settles into any new working environment.
Accommodating for potential dirt buildup doesn't negate the need to keep the tracks clean, however. "Keeping the undercarriage clean is a dirty but necessary job," says Bauer. "At the end of a workday, operators should clean out any mud or debris from the undercarriage. This is particularly important in northern climates where material can freeze inside the track during the winter months."
Daily cleaning can also help protect seals. "In soft conditions, mud gets picked up and dumped onto the top of the track," says Tolomeo. "At the end of the day, the material needs to be cleaned off any undercarriage because it can settle, pack or freeze and cause added stress and wear to the undercarriage components."
To make it easier to keep the undercarriage clean, Komatsu America has added a bracket on the back of some of its dozer models to accommodate a shovel, which can be used to clear any dirt, mud, etc. "We want to encourage operators to remove debris at the end of the day," says Chuck Murawski, product manager, dozers, Komatsu America Corp. "It's important to clean the tracks while the dirt is still moist because even in relatively good conditions, there can be buildup. It can set up like concrete and prevent the rollers from spinning freely."
Basic Rule #2 - Eliminate or minimize procedures that cause excessive wear
Some of the most detrimental operating procedures that cause premature wear include:
Operating excessively in reverse, especially at high speeds
Side loading the machine and working on too steep of slopes
Continuously turning in one direction
Counter rotating or pivot turning
There will be times during the day where an operator will be required to run in reverse. When that happens, Murawski suggests doing so at slower speeds, such as in first or second gear, rather than in third. "There is more scraping between the bushings and the sprocket tooth when traveling in reverse compared to traveling forward," he explains. "When you compound that with high speeds, there is more aggressive scraping, causing more wear on the critical parts of the undercarriage."
"If you look at how an undercarriage is set up, regardless of whether it's a high-drive or oval track design, the sprocket segment is located in the back," adds Oliver. "It is designed to pull the chain up and over so you can push material forward. The front idler doesn't have as much tension on it, but as soon as you put the dozer into reverse, you change the dynamics of how the undercarriage moves. It puts stress in the opposite direction. Plus, operating in reverse just isn't productive, and you put extra wear on the undercarriage when you aren't getting any work done."
Side loading the machine and turning continuously in one direction can excessively wear track links and rollers on whatever side is being overused. "Instead of having the machine sitting flat on the ground and riding on the wearable parts of the rollers and tracks as designed, you can excessively wear the roller flanges, links and the sides of sprockets," says Tolomeo.
Counter rotation, or pivot turning, is also detrimental to wear. "Operators should try to make wider, more gradual turns," says Bauer. He notes that counter rotation also increases the potential for de-tracking on rubber-tracked machines.
Basic Rule #3 - Match the undercarriage to working conditions
Manufacturers offer undercarriages with different track gauges and shoe widths to provide optimum flotation in various ground conditions. For instance, tracks with wide shoes are a great choice when working in soft conditions where low ground pressure is needed to get through sandy or muddy soils. However, wide shoes used in rocky ground conditions are prone to bending, so a narrower shoe is a better choice for hard terrain.
Many manufacturers also offer several levels of undercarriage options designed to maximize wear in certain applications and/or conditions. For example, John Deere offers standard, extended life and maximum life undercarriages. Extended and maximum life undercarriages feature the company's SC-2 coated bushings, while the latter also provides stronger seals and larger components that can deliver up to twice the life before bushings need to be turned.
Base the decision about which undercarriage to choose on ground conditions. "If you are in an abrasive environment, you will get the true benefit of an extended or maximum life undercarriage," Oliver says. "Conversely, if you are operating in good dirt that is easy to move and has natural lubrication properties, a standard undercarriage may be a better choice because you may not need the extra features, and costs, associated with extended or maximum life undercarriages."
Case recommends its "premium" undercarriages for more challenging operating environments. "You're going to see the most value from a premium undercarriage design when the machine is consistently being operated in rough conditions," says Bauer. "That's where the added durability of those components will make the biggest difference."
Case Extended Life Track (CELT) works best in low-impact/highly abrasive ground conditions. "The CELT has a hardened bushing placed over a standard-type track bushing," says Bauer. "This allows the larger outer bushing to rotate, thus eliminating scrubbing between the bushing and sprocket, which can result in almost twice the wear life of a standard lubricated track design."
Komatsu offers options, as well, including the PLUS (Parallel Linkage Undercarriage System) undercarriage, which has become standard on its smaller machines and is now an option on several larger ones. "PLUS undercarriages cut maintenance costs, extend wear life and excel in high-impact, rocky ground conditions and on low-impact, sandy jobsites," says Murawski.
PLUS undercarriages feature oil-lubricated, rotating bushings that are free to rotate, thereby eliminating the need to turn bushings. In a conventional system, bushings are turned at half-life and accompanied by new sprockets, rollers and idlers, notes Tolomeo. "PLUS is engineered and designed for components to wear equally so the undercarriage is a complete replacement," he adds. "This eliminates any downtime and costs associated with turning bushings."
PLUS undercarriages also feature larger components with harder steel to deeper depths for improved wear, providing up to twice the life of a conventional undercarriage in most applications, thereby lowering repair and maintenance costs.
Basic Rule #4 - Monitor tracks for wear
Conduct daily inspections to identify excessive wear, as well as damaged or missing components. Inspecting sprocket teeth is a good place to start.
"Look for sharp drive sprockets and damaged track pads," says Bauer. "These are all indicators of larger problems that can lead to additional wear. Be sure to address any problems immediately."
However, sprocket wear may not be giving you the full story. "It's important to do an inspection of the whole undercarriage, including taking a measurement of the bushings," Oliver says.
"Taking measurements of bushings, as well as track rollers, links and pins will indicate how much wear is left on the undercarriage," adds Tolomeo. "Comparing those measurements to guidelines manufacturers provide, as well as to expected life in your operating conditions, can help determine when the undercarriage may need replacing so you can schedule downtime for replacement."
Finally, make sure the tracks are properly aligned. "Misalignment problems will affect more of the undercarriage components than any other cause of wear, such as the track links, idler flanges, track and carrier roller flanges, sprockets and rock guards," says Bauer.
Companies in this article