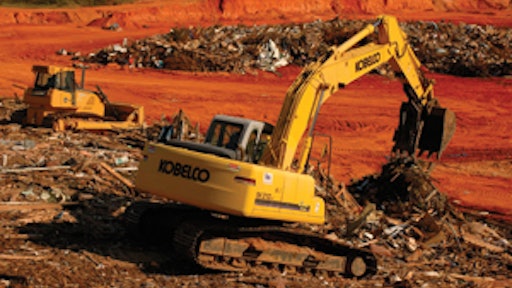 When Hurricane Katrina hit the Gulf Coast in August 2005, it left behind an unprecedented amount of debris from structures and vegetation. Estimates for the amount of disaster debris generated are now reaching 100 million cu. yds., according to Congressional reports. The previous record for disaster-related debris, set by Hurricane Andrew in 1992, was less than half that amount at over 43 million cu. yds.
The National Demolition Association (NDA) has been following the issue of disaster waste management closely. The debris from the storm is still being removed and recycled, landfilled or burned. A number of our nearly 1,000 member companies are actively involved in the cleanup in Louisiana, Mississippi and Texas, and have found a steadily improving situation for waste management, at least for the private commercial sector. The Federal Emergency Management Agency (FEMA) has been handling debris removal and disposal for the public sector.
Minimizing cleanup risks
Working with the U.S. Army Corps of Engineers (USACE), FEMA is addressing the issue of waste management. The USACE forecast the potential amount of hurricane-generated debris based on actual data gathered from Hurricanes Frederic, Hugo and Andrew. As a result, it opened up a number of emergency landfills to handle the debris.
Many of these landfills already existed, but had previously been closed. With the expanded need following the disaster, the sites were "recommissioned." At each location, goods are segregated according to their content. FEMA crews then process the debris, recycling as much as possible.
The U.S. Environmental Protection Agency (EPA) has been instrumental in providing guidance on dealing with debris and damaged buildings. Various federal regulations apply to building demolition activities. Areas of primary concern include asbestos demolition requirements, proper disposal of electrical equipment containing PCBs (i.e., distribution transformers and capacitors) and handling storage tanks.
The EPA recognizes that the difficult circumstances faced in demolishing structurally unsound buildings could make compliance very challenging. However, given the health risks associated with such hazardous substances, it is reasonable that adequate measures be taken to minimize exposure during the demolition process.
Member companies of the National Demolition Association are well versed in measures for hazardous material management. Some are partnering with contractors working under the auspices of the U.S. Small Business Administration's 8(a) Program, many of whom are handling the FEMA work.
Recycling the waste
Cherry Demolition, Houston, TX, is the 13th largest demolition contractor in the country and the largest contractor in the Southwest. The Industrial Services business of Cherry companies also includes a commercial waste management team that disposes of concrete, concrete byproducts, steel products and heavy construction debris.
Cherry Demolition has been working on hurricane-ravaged areas in Texas and Mississippi. To date, nearly all of the work it has done has been with the private sector.
"We've found that the private sector is being handled pretty much the same way it was in pre-hurricane times," says Leonard Cherry, president of Cherry Demolition, and former president of the NDA. "Most of our debris is normal recyclable materials, which are taken to Type 1 or Type 4 landfills. We recycle as much debris as possible."
Another NDA member company, DEMCO Inc., headquartered in West Seneca, NY, is working in Mississippi on projects for damaged hotels and casinos. "We also worked in the past in Louisiana and Texas," says Todd Pierce, vice president of operations. "Nearly all of our customers are in the private sector. And all the work we're doing involves basically 100% recyclable materials, so we have no problem at all with managing our waste. The crushers are up and running and the scrap yards are booming, too. Everyone is accepting the materials."
It wasn't always easy for DEMCO, however. "It was really tough working in Mississippi right after the hurricane. It was difficult getting housing for our people and getting everyone fed," Pierce explains. "It has gotten a lot better in recent months."

Other NDA member firms doing work in the Gulf States area include D.H. Griffin of Texas, Inc., D.H. Griffin Wrecking, Inc. and Louisiana Chemical Dismantling Co. Inc.
According to Congressional reports, debris removal operations associated with the hurricane are essentially complete in Alabama and are nearing completion in Mississippi. However, debris removal continues to be an ongoing issue in Louisiana.
Michael R. Taylor, CAE, is executive director of the National Demolition Association, a non-profit trade organization representing nearly 1,000 U.S. and Canadian companies and many international firms involved in the demolition process. To learn more, visit www.demolitionassociation.com or call (800) 541-2412.