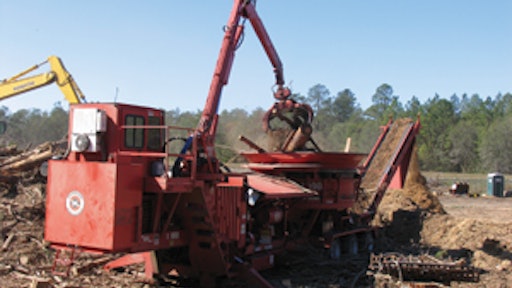 While the overwhelming majority of post-Katrina cleanup coverage has been focused on New Orleans, many communities throughout Louisiana were equally devastated and had to struggle to recover. North of the city, directly across Lake Pontchartrain, lies one such example.
Though spared from flooding, the city of Covington incurred the full wrath of Katrina's 140+ mph winds. As a result, it had to deal with massive volumes of debris, both structural and natural.
Covington and St. Tammany Parish as a whole are not unaccustomed to storm cleanup. As recently as September 1998, the area was rocked when feeder bands from Hurricane Frances hit Louisiana, dumping as much as 21 in. of rain in areas and resulting in the need for massive recovery efforts. However, Hurricanes Katrina and Rita took such efforts to a whole new level.
"There are estimates that there will be about 12 million tons of debris left behind by Katrina in New Orleans, roughly about the same amount of waste generated by that city in 34 years," says Richard Tarver, a partner in A & T Equipment Co. LLC, which is based in Covington. "This Parish alone is projected to generate more than 7 million cu. yds. of C&D and green waste debris when all is said and done."
Tarver and his business partner, Billy Aguillard, both life-long Covington residents, saw an opportunity to contribute to rebuilding their community. Though not grinders by trade, they purchased a tub grinder and a horizontal grinder, and quickly joined the ranks of grinding professionals working in the Gulf Coast region. At the same time, they broadened their company's areas of expertise for future work.
A good reason to jump in
A & T is a general contractor whose specialty includes building subdivisions, doing site prep and clearing, etc.
"We pride ourselves, more than anything else, on our ability to do turnkey subdivision work," says Tarver. "Because of the experience we have in so many areas, we can do everything it takes to make a subdivision ready for housing. The only thing we will not do is asphalt."
In the past when site clearing called for grinding, A & T would subcontract it to a local firm. "We could not justify the purchase of a grinder based solely on the limited number of times we use it over the course of the year," says Tarver. "Then Katrina hit and everything changed.
"Joining the recovery effort gave us the justification we needed to acquire a grinder to add to our business," he points out. "We always felt we could use one in support of our land clearing/site prep effort. This more or less forced our hand in acquiring that capability."
Tarver contacted John Dale, Morbark's regional manager, who was able to quickly deliver a Model 1300 tub grinder. The delivery came just in time since A & T had already been contacted about grinding at several sites in and around New Orleans.
"It was just mayhem immediately after the storm hit," Tarver states. "And once the recovery efforts started, word spread quickly that we had a grinder and were available. We were off and running."
A & T's plans originally called for the purchase of just the tub grinder. However, these plans took an unexpected turn. "A colleague in the business was actually contacted to do the project here in Covington, but was unable to do so," Tarver explains. He was also in the process of trading in a Morbark Model 6600 horizontal grinder for a track-mounted unit. "We felt the horizontal grinder, by nature of its ability to process longer logs — and do so without having to pre-process them — could be a nice addition to our fleet. We purchased it and immediately put it to work at the Covington site."
Moving mountains of waste
In a typical day, A & T was putting about 4,000 yds. of wood waste into the tub grinder and about 5,000 yds. into the horizontal grinder. It operated on a 10-hour shift schedule — eight hours consisted of non-stop grinding with the balance of the time dedicated to maintenance.
"In a situation like that, maintenance is one thing you can't over-emphasize," Tarver says. "If our equipment isn't running at its peak, we're not getting the most out of it. That's always been true for us, but really took on a new significance in the recovery operation."
By the time the project ended in January, A & T had processed about 400,000 yds. of material, the overwhelming majority of which was either landfilled or burned. The company has since resumed focusing its efforts on land clearing work in and around the area.
"It's good to be back doing what we do best," says Tarver, "and things are really starting to move here again. We're going full steam ahead."