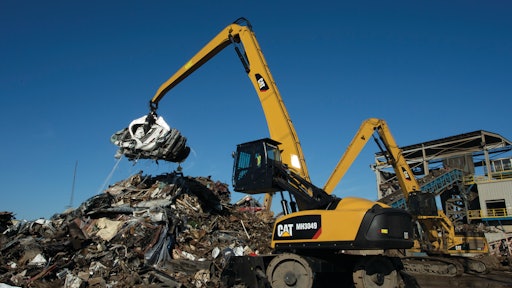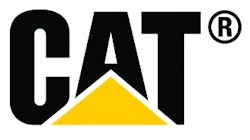 The MH3049 and MH3059 wheeled material handlers use a closed-center, two-pump, load-sensing implement hydralic system with electro-hydraulic pilot control allowing hydraulic pumps to generate only as much oil flow and pressure as required for an application.
Caterpillar, Exodus Machines Form Material Handler Alliance
Cat ACERT C9 8.8L engine
Oversized pins and bushings
Regenerate boom-down oil flow
Adjustable cab height up to an eye level of 18.75 ft. (MH3049) and 23.5 ft. (MH3059)
Impact-absorbing falling objects guarding system
Adjustable limiter prevents work tool contact with the cab
Automatic lubriaction system on adjustable working-time interval
Medium-pressure flow from separate valve for tool rotation
High-pressure cirucit from main pumps to operate open/close functions of typical tools
Lower frame's design distributes loads and reduces stress
"Ground entry and exit" with step-in cab
MH3049
Rated power: 300
Operating weight; 111,000 lbs.
Max horizontal reach: 58 ft. 5 in.
Max vertical reach: 64 ft.
Max travel speed: 7.5 mph
Max swing speed: 7 rpm
System Pressure: 4,800 psi
Max Swing Torque: 79,000 lb.-ft.
MH3059
Rated power: 325
Operating weight: 130,000 lbs.
Max horizontal reach: 63 ft. 4 in.
Max vertical reach: 70 ft. 4 in.
Max travel speed 7.2 mph
Max swing speed: 7 rpm
Max swing torque: 97,000 lb.-ft.
System Pressure: 4,800 psi
Request More Information
Fill out the form below to request more information about
MH3049 & MH3059 Material Handlers