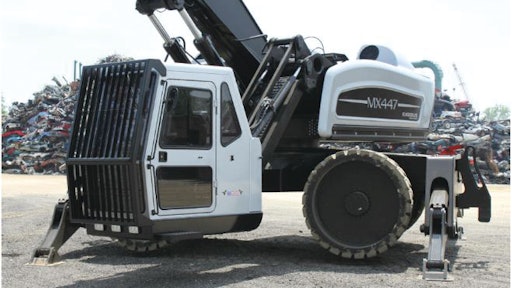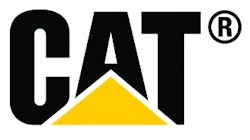 Updated February 3, 2012
Caterpillar recently executed an alliance agreement with Exodus Machines Inc. for the design and supply of material handlers to be sold and supported exclusively by Cat dealers. The alliance agreement follows Caterpillar's recent formation of a new strategic business unit, the Caterpillar Industrial & Waste Group, which has global responsibility for serving customers in these markets. The new group is part of the Diversified Products Division, led by Bill Springer, vice president of Caterpillar.
According to Springer, the alliance will allow Caterpillar to expand its offering of wheeled material handlers. "Over the years, the shift has gone from tracked material handlers to wheeled material handlers. That's why this alliance with Exodus is absolutely a perfect match," he states. "They have the product that we don't have. We have the distribution system that they don't have... In the purpose-built wheeled material handlers, we're not the market leader, but our intent through this alliance with Exodus is to move there as quickly as we possibly can."
The Exodus machines, which at this time include two models, will be available immediately in North America and will complement Caterpillar's current line of wheel and track material handlers greater than 25 metric tons. The products will initially continue to carry the Exodus brand name but will transition to the Cat brand in 2013.
"We are putting into place the support and service systems that Caterpillar customers would traditionally expect from a Caterpillar product. We will also be collaborating with the Exodus team to do some integration of some Caterpillar components into the product," says Jody Howard, general manager - Cat Industrial and Waste Group. "Our mission is to transition the product to the Cat brand within 12 to 18 months."
Exodus Machines, based in Superior, Wis., was incorporated only three years ago and is now known for its innovative designs. Each of the company's material handlers features an industry exclusive cab that lowers to the ground for easy ingress and egress and maintenance access. The wheel machines also feature independent planetary wheel drive for true all-wheel-drive.
In support of the alliance agreement, Caterpillar acquired a minority equity interest in a new entity, Exodus Machines, LLC, formed by Exodus. In addition, Exodus plans to expand manufacturing in the Superior area and is working to secure working capital and capital funding, developing plant layouts, assessing building sites and estimating needs for new employees.
Bruce Bacon, president and founder of Exodus, sees the alliance with Caterpillar as a win-win situation. "From our perspective, the strength of Caterpillar's leadership position in distribution, manufacturing and commitment to customer support, combined with Exodus' ability to create innovative, advanced designs really results in an alliance that delivers a superior value proposition to our current and future customers," he comments. "We certainly look for a dynamic future as a result of this alliance and all that it brings to the table for the most important group, and that's our current and future customer base."
Exodus models are currently available through seven North American Caterpillar dealers. This will expand in the months ahead. "It's ongoing. We're actively in preparation of additional phases of Cat dealers that have a larger distribution of the products in North America," Howard indicates.
"In the first phase for the Exodus-branded equipment, it will be available to all N.A. dealers who decide to establish a sales and service relationship with the Exodus Machines Company," she explains. "As we move forward with the Cat brand, it will be available to all North American dealers. Then, as we prepare the product for international regulations and distribution, it will be available to more and more of the Cat dealerships worldwide."
Companies in this article