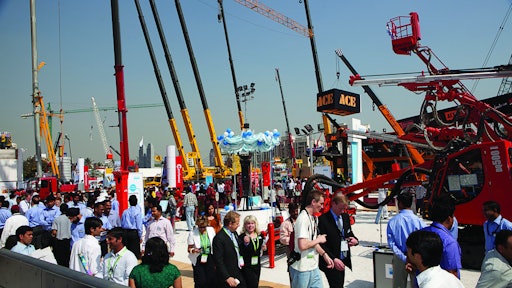 In four days this week, more than 22,000 visitors attended the bC India exhibition in Mumbai, drawing wide acclaim that it has been a successful first-time show. The construction trade show was organized by a joint venture between the Association of Equipment Manufacturers (AEM), organizers of CONEXPO-CON/AGG, and Messe München International (MMI), organizer of the bauma exhibition in Munich, Germany and bauma China in Shanghai, China.
"This result shows clearly that our decision to launch bC India just came at the right time at the right place," said Thomas Löffler, chief executive officer of bC Expo India and deputy CEO of MMI India. "Furthermore, the number of exhibitors as well as the feedback from all participants evidence impressively that bC India truly is a new dimension for the construction industry."
Responding to very strong demand from exhibitors in the run-up to the show, the exhibition space for bC India had been extended to a total of around 88,000 square meters. All in all, 508 exhibitors from over 30 countries showed the latest equipment for construction, mining and building materials. Seventy percent of the registered exhibitors were headquartered outside of India.

The international character of this trade fair was underlined with the participation of nine national pavilions from Australia, China, Finland, France, Germany, Italy, Korea, Spain and the United Kingdom, all showcasing state-of-the-art technology produced in these countries.
The joint venture partners supporting the show were highly satisfied with the outcome. "bC India proves to be a premium platform for the construction machinery industry in India by setting new organizational standards," said Eugen Egetenmeir, managing director of MMI. Dennis Slater, president of AEM, added: "The overall numbers are outstanding. I am convinced that bC India will indeed play a very important role in the Indian market in the near future."

In particular, the quality of business visitors and the facilities were highly appreciated among the exhibitors. The show welcomed free pre-registrations and charging an entrance fee to those who were not pre-registered. "The quality of visitors has been extremely good thanks to the restricted entry policy", said V. Venkataramana, vice president of Puzzolana. Ramesh Palagiri, managing director and CEO of Wirtgen India, added, "All visitors at our booth were 100% quality visitors."

With regards to the facilities and especially the indoor structure and outdoor exhibition area, all participants were extremely satisfied: "The organization has been perfect and we are enjoying a first-class exhibition", said José Luis del Prim, CEO of Enarco and president of the Committee for European Construction Equipment CECE. "I recommend this event to all equipment manufacturers. We will come back."
In this context and from day one, bC India also turned out to be a perfect platform for doing real business: "bC India is not only an image branding show but also a selling show", said Dr. Thomas Schulz, president of Sandvik's construction division. "Although the show is still running, we have been able to sell 207 units so far."
Michael Schmid-Lindenmayer, managing director of Putzmeister India, said: "India definitely needed an event like bC India."

For further information on bC India and photos to download, go to: www.bcindia.com

Read more exhibitor statements

About Messe München International (MMI)
Messe München International (MMI) organizes around 40 trade fairs for capital and consumer goods, and key high-tech industries. Each year over 30,000 exhibitors from more than 100 countries, and over two million visitors from more than 200 countries take part in the events in Munich. In addition, MMI organises trade fairs in Asia, Russia, the Middle East and South America. Via its six subsidiaries – in Europe and in Asia – and 64 foreign representatives actively serving over 90 countries, MMI has a worldwide business network. In Munich, it hosts bauma, the world's leading trade fair for the sector. In Shanghai, it organises bauma China, the leading event of its kind for the Asian market. For the Indian market bC India represents the competence of MMI. For further information on the regional events in the construction machinery trade fairs portfolio of the MMI Group, click here.

About the Association of Equipment Manufacturers (AEM)
AEM is the North American-based international trade group representing the off-road equipment manufacturing industry. AEM is headquartered in Milwaukee, Wis., with offices in the capitals of Washington, D.C., Ottawa, Beijing and a European presence in Brussels. It represents more than 800 companies in the agriculture, construction, forestry, mining and utility sectors. AEM has an ownership stake in and/or manages several world-class exhibitions, including CONEXPO-CON/AGG, one of the world's largest gathering places for the construction and construction materials industries.