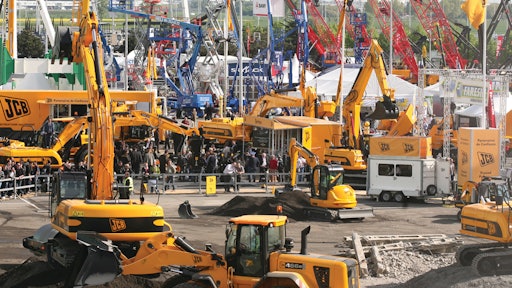 PARIS, FRANCE - Positive growth forecasts and 90% of exhibit space sold eight months before the show are promising signs for INTERMAT 2012.
The international exhibition for equipment and techniques for construction and materials industries is held every three years, and it is scheduled to take place from April 16-21, 2012, at the Parc des Expositions de Paris-Nord Villepinte in Paris, France. The show features a 375,000 sqm exhibition area and 20,000 sqm demonstration area highlighting machinery and equipment manufacturers, components, equipment and accessories manufacturers, distributors, equipment rental firms, and service companies working for the construction and materials industries.
Innovation will also be be showcased at INTERMAT 2012 with the Innovation Awards. For the very first time, a European jury will be formed of users and construction and rental company representatives.
"Eight months before INTERMAT 2012, we have excellent participation rates. Industrialists are showing confidence in their sector, which is a good omen for a business-inducing show. Moreover, the market is up to scratch and booming, with a stable number of jobs, especially in France, where 15,000 people work in the construction materials industry and 1,500 jobs are created every year," says Maryvonne Lanoë, Exhibition Manager.
Worldwide growth in the construction machinery and equipment sector
The forecast for 2011, more favourable than for 2010, shows that the sector is recovering its dynamism, with growth anticipated to reach some 11%* this year. Emerging regions such as China, India and Latin America record sustained growth, stimulating the dynamics. These markets posted more than 10% growth, which very few European markets were able to boast for 2010. It now remains to be seen whether Europe will benefit from this good performance.
In the wake of the major crisis of 2009, the European construction equipment industry grew by some 18% in 2010. Nonetheless, the picture differs from one country to the next: Germany is in excellent shape with 19% growth and the United Kingdom recorded +57% development for 2010. Conversely, Spain sustained losses of 19% in turnover and Italy saw its construction sales stagnate throughout the year.
INTERMAT 2012 at a glance

INTERMAT 2012 will be the key event of the year for all players in the construction industry, with:
375,000 sqm exhibition area, including a 20,000 sqm outdoor demonstration area
1,500 exhibitors, 67% of whom are international**
4 national pavilions: China, Korea, United Kingdom (including Northern Ireland) and USA
More than 200,000 visitors expected, including 40% international visitors
Event organizers include: S.E. Intermat assembles trade organisations from the construction and import sectors: CISMA (Syndicat des équipements pour la Construction, les Infrastructures, la Sidérurgie et la Manutention), an association of equipment manufacturers for construction, infrastructure, steel and handling equipment industries, SEIMAT (Syndicat des entreprises internationales de matériels et de travaux publics, mines et carrières, bâtiment et lavage, an association of international civil engineering, mining, construction and hoisting equipment industries) and Comexposium, leading organiser of events in Europe.
For more information, visit www.intermat.fr.
* Committee for European Construction Equipment, 2011 statistics
**Exhibitors registered as of 9/19/11

About Comexposium
Comexposium, the leading company in France specialised in organising both professional events (INTERMAT, SIAL, SIMA, Emballage, Equip Auto, Silmo, etc.) and consumer events (International Agricultural Show, Salon du Cheval, Foire de Paris, etc.), organised 121 events and generated consolidated turnover of €226 million in 2008. The group is jointly owned by the Paris Chamber of Commerce and Industry (CCIP) and UNIBAIL RODAMCO.