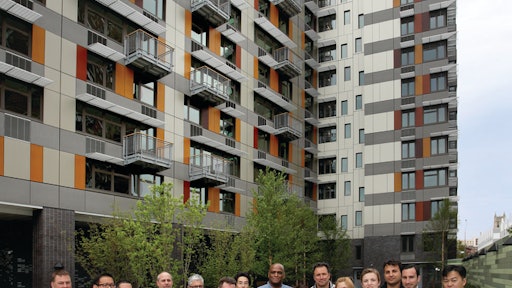 The Urban Land Institute recently bestowed the Workforce Housing Model of Excellence Award on a Bronx-based green, affordable housing development constructed by Lettire Construction Corporation – one of only three projects nationwide to receive this prestigious honor.
Via Verde, a 222-unit, eco-friendly affordable housing development co-developed by Jonathan Rose Companies and Phipps Housing, received the 2012 Jack Kemp Workforce Housing Models of Excellence Award at the national conference of Urban Land Institute (ULI) in Denver.
As general contractor, Lettire Construction shared in the award with Rose and Phipps; Dattner Architects and Grimshaw Architects, which designed Via Verde; and Ettinger Engineering Associates, Robert Silman Associates and Lee Weintraub Landscape Architecture. Via Verde qualified for the ULI award by winning the New Housing New York Legacy Competition, sponsored by the New York Chapter of the American Institute of Architects, NYC's Department of Housing Preservation and Development, the New York State Energy Research, and Development Authority and Enterprise Foundation.
The ULI national award, which is named after Jack Kemp, former U.S. Secretary of Housing and Urban Development (HUD) and former U.S. Representative, is an annual recognition of exemplary developments that meet workforce housing needs.
Via Verde, a state-of-the-art, healthy-lifestyle-focused development that received LEED NC Gold Certification, aims to pave the way for future affordable housing projects. It features details, finishes and amenities usually reserved for higher-end buildings. Lettire, which specializes in building affordable and supportive housing that is both green and sustainable, utilized eco-friendly best building practices, allowing Via Verde to promote healthy living for its tenants.
Via Verde, which opened in the summer of 2012, consists of 71 cooperative homes and 151 rentals. Residents enjoy improved indoor air quality as a result of Lettire's utilization of green cleaning materials and non-toxic, low-VOC materials during construction and, with an eye toward sustainability, Lettire installed photovoltaic solar panels to provide power to the common areas.
Building amenities include a series of green roofs. Some of the roofs include a Scots Pine tree orchard, edible-fruit-bearing apple and pear trees, and gardening beds where residents can grow organic vegetables.
Via Verde's co-ops were financed through the Multifamily Homeownership Program of New York City's Department of Housing Preservation and Development (HPD), the New York City Housing Development Corporation (HDC) Cooperative Loan Financing Program, the New York State Affordable Housing Corporation and tax credit equity provided by JP Morgan Chase, syndicated through Richman Housing Resources.
Lettire Construction Corporation, headed by brothers Nicholas and Gerard Lettire, is one of the largest, premier builders and developers of affordable and supportive housing in the region. Headquartered in East Harlem since 1980, the company's founders are actively participating in the economic rebuilding of the city and creating local jobs in these communities. By working closely with government agencies, development partners and neighborhood leaders and coalitions, Lettire has been able to further its mission, and dramatically increase the supply of affordable and supportive housing in the New York area.