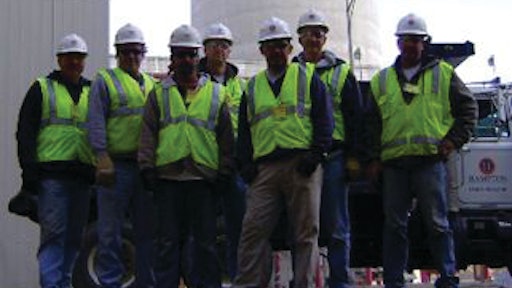 For the second year, World of Concrete 2013 featured the Crews That Rock competition, sponsored by BASF, to honor crew members for their teamwork and contribution to the industry. Crews submitted stories and photos of their amazing and inspiring projects from the past year for a chance to win a trip to the show, hotel stays, seminars and other exciting prizes.
Projects were submitted in one of two categories, Community Service/Not-for-Profit and Commercial/For-Profit. Two Grand Prizes were awarded in each of the categories – Audience Award via online voting and Experts' Choice selected by a panel of industry professionals. With 39 total finalists, including 31 in the Commercial category and eight in the Community Service category, the contest garnered nearly 13,000 total online votes.
Hampton Commercial Construction Inc. received the Audience Award in the Commercial/For-Profit category for their Nebraska City Power Plant Silo Footing. The project consisted of a 25-foot by 25-foot footing that was to be poured on top of a grid of 18-inch concrete pilings that were drilled to a depth of 100 feet to bedrock below, with reinforcing cages made of #6 rebar. The pilings were installed with extreme caution due to the large number of overhead high voltage lines and conduits that seemed to be going every which way.
The Experts' Choice award for the Commercial/For-Profit category was PULLMAN/Shared Systems Technology, Inc. for the 10 Light Street Façade Restoration. The Ten Light Street building, an immense 37-story, 360,000-square-foot Art Deco-style building constructed in 1929 in Baltimore, features a wall system that consists of multiple wythes of brick backed by terra cotta wythe, which encase the structural steel framing. The successful project was completed in April 2012 with over 33,000 incident-free man hours worked.
StoneMakers' backyard landscape creation for a disabled veteran received the Audience Award for the Community Service/Not-For-Profit category. Veterans along with the some additional contractors and the StoneMakers crew had the opportunity to give back to a disabled veteran who lost his leg after been hit by an IUD in Iraq. After clearing the yard, the crew created a totally new yard complete with wall, patio, water feature, outdoor kitchen, bridge, fire pit, log effect bench and all of the supporting landscape and electrical.
The Experts' Choice award for the Community Service/Not-For-Profit category was given to Chasco Constructors for The Play for All Abilities Park. The mission of the park is to provide a safe, fun place to play and develop new skills for children of all abilities in Round Rock, Texas and surrounding areas. The Play for All Abilities Park will serve the more than 100,000 children of Williamson County with an estimated 7,945 children with a disability.
At WOC 2013, the four Grand Prize winners will be honored during the Crews That Rock reception on Wednesday, February 6 at 3 p.m. in the CC Live booth, C4587. BASF and TV personalities Dean & Derek will present awards and swag bags for the winning crews.
Companies in this article