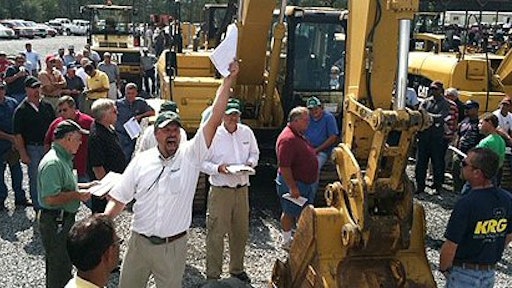 Yoder & Frey, auctioneers of heavy construction equipment, announced it will join forces with Europe's largest construction machinery auctioneers, UK-based Euro Auctions.
Euro Auctions has been conducting unreserved auctions of industrial and construction equipment and agricultural machinery since 1998. Its head office is located in Dromore, Co. Tyrone, Northern Ireland, with five more permanent auction sites in England, Germany, Spain, Australia and the USA. Yoder & Frey was founded 52 years ago and is the originator of the annual Kissimmee winter consignment auction in Florida.
The new venture will see Yoder & Frey become an extension of the Euro Auctions brand. Through the strategic alliance, Yoder & Frey customers will benefit from exposure to a new customer base of buyers, as well as a rich pool of consignors who will be looking to send their assets to Yoder & Frey sales in the US.
"Working with Euro Auctions, the Yoder & Frey brand will gain exposure to a global market place and increased access to a global database of both buyers and sellers. The equipment that comes along with this association will help grow the Yoder and Frey brand," stated Peter Clark, CEO, Yoder & Frey. "From working with the Euro Auction's team previously, we are aware of our similar core focus of delivering a quality service and a competitive price, while also never losing sight of our customers' true needs. I believe it will be a good fit for both companies and look forward to a good start together at the Florida auction from February 6-11, 2017."
The Yoder & Frey brand will continue in the US, with Clark leading the business. Current employees will be retained to see the merger launch and deliver the busy 2017 auction season, including the 43rd Kissimmee Winter Consignment Auction in February. Euro Auctions' Atlanta site will be re-branded as Yoder & Frey and added to the company's portfolio.
"We are extremely excited to announce the merger with Yoder & Frey in the USA as this gives Euro Auctions a strong US brand with which to extend the reach the business has globally and achieve a stronger presence there," said Jonnie Keys, Operations Manager of Euro Auctions. "Working with Peter Clark and his team, we aim to expand the operations in the USA, introducing the American market to the global reach of Euro Auctions, whilst building the brand to the good of both Yoder & Frey and Euro Auctions."