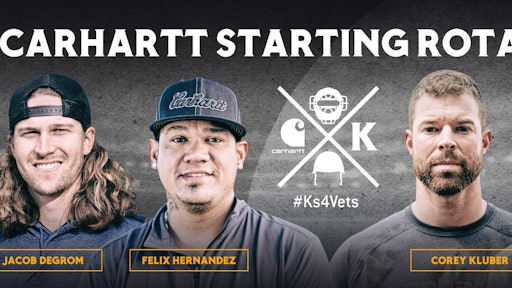 Five elite MLB pitchers (below) have partnered with Carhartt for the 2017 baseball season: 
Chris Sale, Boston
Felix Hernandez, Seattle
Corey Kluber, Cleveland
Jacob deGrom, New York
Michael Fulmer, Detroit
Every time one of these five pitchers records a strikeout, Carhartt will donate $100 to the national nonprofit program that helps military service members successfully transition back into civilian life and secure a quality career in the building and trade industry. 
Carhartt will donate an additional $25,000 to the organization if the Carhartt "Starting Rotation" has more total strikeouts than any other team's starting rotation.
"I love going to the mound every fifth day to help my team win games. But this year, I have another motivation to pitch well," said Sale, starting pitcher for Boston. "All season long, when I succeed, our military veterans succeed. I will take that motivation with me to the mound every game."
During last year's inaugural season, the "Strikeouts for Vets" campaign raised $125,500 for Helmets to Hardhats. With that money, the organization helped more than 120 veterans receive training and secure a career in the construction trades.
"The men and women who serve in the armed forces and work in the construction trades epitomize the meaning of hard work. That's why we're proud to partner with Helmets to Hardhats in expanding the Strikeouts for Vets program this year," said Tony Ambroza, senior vice president of marketing at Carhartt.
"We're confident that we've put together a group of pitchers that will outwork them all, and we look forward to writing a large check in support of Helmets to Hardhats at the end of the season."
Carhartt became a proud supporter of Helmets to Hardhats in 2014. Carhartt's "Made In The USA" products feature tags that promote awareness for Helmets to Hardhats, and Carhartt has pledged to donate funds annually to Helmets to Hardhats, regardless of sales.
"Last year's 'Strikeouts for Vets' campaign was a great success. Beyond the monetary donation, it increased awareness of Building Trades apprenticeships and construction career opportunities throughout the United States. We look forward to another year of partnering with Carhartt and the pitchers, whose efforts are going to enable us to change veterans' lives by assisting them in finding and beginning a new career," said Darrell Roberts, Executive Director of Helmets to Hardhats.