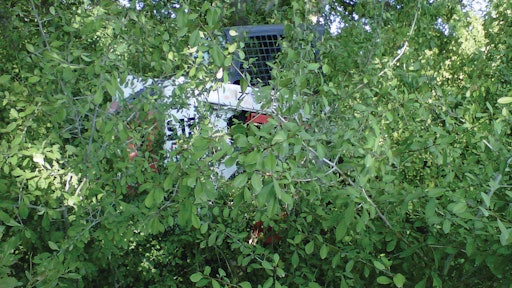 LoJack reveals its Top 5 construction equipment theft recoveries of 2011:
5. Thieves Leave Loader to "Cool Off," but LoJack Found it 
On a Sunday night before the manager of a national home improvement store in San Antonio, Texas, left for the evening, the store's skid steer loader was secured on a trailer. The manager had a very unpleasant Monday morning, as he discovered that the loader had been stolen right off the trailer. Fortunately, the skid steer was equipped with a LoJack System, enabling officers from the San Antonio Police Department Auto Theft unit to start tracking its whereabouts. Officers located the skid steer abandoned in a field behind a community swimming pool, hidden under trees. It appeared that the thieves had left it to "cool off" -- waiting to see if police were able to locate it with a LoJack Stolen Vehicle Recovery System. Fortunately, they did and were able to return the skid steer to its grateful owner.
4. LoJack Recovers Backhoe for Half Day of Downtime
Workmen with the Union Pacific Railroad in Fremont, Calif., arrived at their work site and found that a rented 2010 John Deere backhoe had been stolen the previous night. Less than 15 minutes after the theft was reported and the LoJack System activated, officers with the Fremont Police Department began receiving a silent signal from the transponder hidden on the backhoe. The officers recovered the backhoe, which was parked and abandoned within the city limits. Union Pacific workers were able to retrieve the backhoe and were back at work with only a half-day delay, which minimized downtime and lost revenue.
3. LoJack Helps Police Recover More than $200,000 in Stolen Equipment
A LoJack-equipped John Deere 710 backhoe valued at approximately $140,000 was reported stolen by workers after they returned to the jobsite in Phoenix, Ariz. Only 42 minutes after the theft was reported and the system activated, detectives with the Arizona Auto Theft Task Force began picking up the backhoe's signal. The detectives followed the signal to an industrial area, where they observed the backhoe, an International 10-wheel dump truck, and a flatbed trailer. Detectives set up surveillance, waited for the suspect to return to the scene and recovered the stolen John Deere backhoe. They then discovered that the dump truck and equipment trailer also had been reported stolen. Thanks to LoJack, detectives recovered the equipment with a total value of approximately $210,000. The suspect, who had just been released from prison for prior equipment theft, confessed his involvement in this crime -- plus several other equipment thefts in the Phoenix area.
2. LoJack Leads Police to Bust Commercial Theft Ring
A LoJack-equipped 2006 Sullair Compressor was reported stolen from a national equipment rental company. Within 30 minutes of system activation, deputies with the Riverside County Sheriff's Perris Station and detectives with the Riverside Auto Theft Interdiction Detail (RAID) tracked the silent LoJack signal to a large property in Menifee, CA where they found a number of other pieces of construction equipment.  There, they questioned an individual who informed police that he had purchased the compressor, as well as five additional pieces of equipment -- all of which were identified as stolen -- from a suspect who was ultimately arrested in Perris, Calif. RAID detectives conducted a follow up investigation the next day at another property and found eight additional pieces of stolen equipment, as well as smaller hand-held equipment. Total value of equipment recovered was more than $226,500.
1. LoJack Helps Recover Stolen Skip Loader, Uncovers Illegal Weapons Cache
Within three minutes after the owners of a 2005 John Deere Skip Loader reported it stolen and the vehicle information was entered into the National Crime Information Center computers, flight deputies with the San Bernardino Sheriff's Department picked up the silent LoJack signal from the air. The signal was tracked to a property where the stolen loader was observed.  Responding ground units were directed to the location and verified that it was the stolen skip loader. Police spoke to the occupant of the property, who claimed he knew nothing about the stolen loader. While speaking with the occupant, the deputies observed a large cache of weapons, so the San Bernardino Sheriff's Bomb Squad took over the investigation. The recovery not only included the skip loader, it also netted illegal weapons, a large amount of ammunition, live hand grenades and body armor. 
LoJack Corporation (NASDAQ: LOJN), the company that invented the stolen vehicle recovery market more than 25 years ago, is a global leader in finding and recovering a wide range of mobile assets including cars, construction equipment and motorcycles -- having recovered nearly $4 billion in stolen assets worldwide. In today's rapidly changing world, LoJack's core competencies are more valuable and more relevant than ever as they are now being applied into new areas, such as the prevention, detection and recovery of stolen cargo and finding and rescuing people with cognitive conditions such as autism and Alzheimer's. For more information, visit www.lojack.com, http://www.autotheftblog.com/category/commercial-theft-recoveries/, www.twitter.com/LoJackCorp or www.Facebook.com/LoJackCorp.
Companies in this article