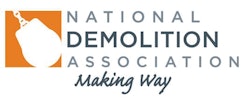 National Demolition Association presented college scholarships to six deserving students at the 39th Annual National Demolition Association Convention in Las Vegas. The NDA has recognized exemplary students with scholarships for more than 10 years.
"We're pleased to present these scholarships to students who have demonstrated a commitment to serve the local community while maintaining a high level of academic achievement," said Michael R. Taylor, CAE, executive director of the association.
The Bill and Wanda Baker Scholarship was presented to Nicholas Miller of Quakertown, Penn., a 2012 graduate of Quakertown Community Senior High School. The Patrick H. O'Rourke Scholarship was given to Pamela Kirkpatrick of Hatfield, Penn., a student at Messiah College. Both scholarships' sponsors are Haines & Kibblehouse, Inc., Skippack, Penn.
The National Demolition Association Scholarship was awarded to two members of the 2012 graduating class. Amber Lee of Summerville, S.C., was sponsored by NASDI, LLC, Waltham, Mass., and will graduate from Can Bay High School. Margaret Keating Olesen of Unionville, Conn., was sponsored by Manafort Brothers Inc., Plainville, Conn. She will graduate from Phillips Exeter Academy.
Northeastern University School of Law student, Monica Passeno of Boston, Mass., received the National Demolition Association Southern California Chapter Scholarship and was sponsored by Bierlein Companies, Midland, Mich. Western Carolina University student, Casey Swoope of Monroe, N.C., received the Sims Adams Scholarship. Her sponsor was Environmental Holdings Group, LLC, Morrisville, N.C.
Companies in this article