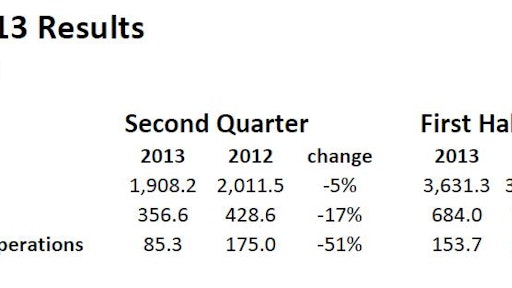 Terex Corp.'s second-quarter 2013 income from continuing operations ($21.3 million, or $0.18 per share) plummeted 75 percent from its second-quarter 2012 level on significant restructuring charges.
Excluding the after-tax impacts of restructuring and related charges of about $54 million, expenses related to debt retirement of $3.5 million, and reversal of an accrual for redeemable non-controlling interest of ($3) million, second-quarter 2013 income from continuing operations as adjusted was $75.8 million, or $0.65 per share. That number is 9 percent below the Q2 2012 income from continuing operations.
Net sales were $1.9 billion in Q2 2013, a decrease of 5 percent from $2.0 billion in the same quarter of 2012. Income from operations was $85.3 million in the second quarter of 2013, a decrease of 51 percent compared to the second quarter of 2012. Excluding the pre-tax impact of restructuring and related charges though, income from operations as adjusted was $150.3 million, 15 percent below Q2 2013.
Terex 2nd Quarter 2013 Financial Results
The company reduced its 2013 earnings outlook more than 20 percent last month, from the $2.40 to $2.70 per share expected since the first of the year to $1.90 to $2.10 per share. The company's 2013 sales outlook decreased about 6 percent.
"Our Cranes, Construction and Material Handling & Port Solutions (MHPS) segments all experienced lower revenues than originally expected," said Ron DeFeo, Terex chairman and CEO. "However, we do continue to see strong performance from our Aerial Work Platforms (AWP) business, and good operational execution by our Materials Processing business in a challenging environment.
"Overall by geography, North America continues to improve, but now at a slower pace. Europe remains challenging, particularly for our Cranes, Construction and MHPS segments, and the markets in the rest of the world remain mixed," DeFeo added.
"As a result, and as previously previewed, we took substantive actions in the second quarter to further adjust the cost structure of the MHPS, Cranes and Construction organizations. While these actions are difficult, the benefits to our stakeholders are expected to have a meaningful impact on our future results, particularly in 2014 and beyond. We expect stronger MHPS performance in the second half of 2013 as we begin to deliver increased revenue from their large backlog. These actions provide us with confidence in the near-term execution of our revised plan, and are necessary as we pursue our longer term goals."
2013 Outlook
The Terex overall outlook for fiscal year 2013 is consistent with guidance provided on June 17, 2013.
"Terex remains focused on improving profit through continued vigilance on pricing and operating costs," Mr. said DeFeo. "We are working to more thoroughly integrate our businesses and consistently generate free cash flow. We reiterate our earnings per share outlook of 2013 to be between $1.90 and $2.10 per share, excluding restructuring and other unusual items, on net sales of between $7.5 billion and $7.7 billion."