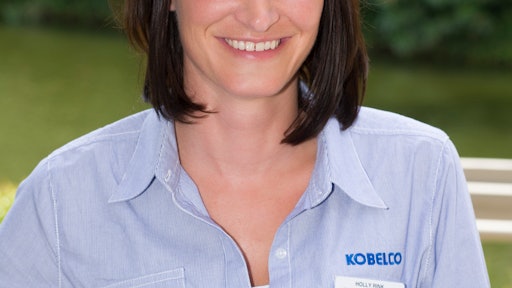 Kobelco Construction Machinery USA is pleased to announce its recent hire of Holly Rink who will join the company as Business Manager. A skilled sales and management specialist, Rink brings to Kobelco more than 8 years of experience executing effective business strategies for construction equipment manufacturers.
In her new role, Rink will be responsible for inventory control and production planning for all Kobelco product lines based on industry reports and forecasting. She will work to ensure Kobelco machines are readily available and will manage freight coordination and logistics to move the equipment into the hands of customers as quickly as possible.
Rink will also seek to maintain and improve customer relations and satisfaction by handling inquiries related to product availability, system performance, invoicing and pricing.
Prior to joining Kobelco, Rink held various management roles within CNH Global N.V. including a two year term as Inside Sales Manager and a one year term as Sales Support Manager before accepting her final position as the company's Commercial Logistic Manager – Demand Planning in 2011. In her most recent role, Rink successfully identified variances based on historical performance in order to plan production needs accordingly and tracked monthly wholesale shipments to ensure the company's set objectives were continually met.
Companies in this article