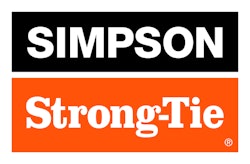 As Colorado begins work on recovering from the catastrophic flooding last month that struck several counties, including Boulder, Larimer, Jefferson and Weld County, Simpson Strong-Tie announced it will make a $10,000 donation to assist in the relief response and recovery efforts throughout the area.
The donation was given to the American Red Cross Disaster Relief Fund and will aid in providing food, shelter, emotional support and other assistance to those affected by the floods. The company will also match employees' personal contributions to the Red Cross.
"Our thoughts and sympathies are with the people of Colorado working to recover from this natural disaster," said Simpson Strong-Tie President Terry Kingsfather. "We hope our support can help these communities quickly recover and begin the rebuilding process."
To make a contribution and aid in the Colorado flood recovery efforts through the American Red Cross, visit www.redcross.org, text REDCROSS to 90999 to make a $10 donation to the Disaster Relief Fund, or send a donation to your local Red Cross chapter.
Companies in this article