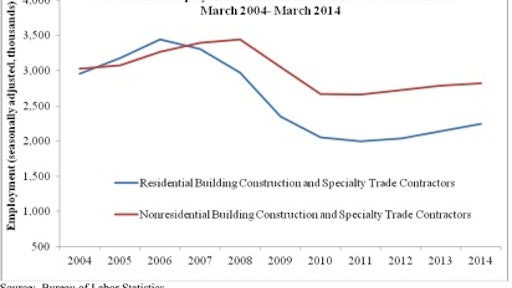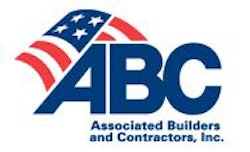 The U.S. construction industry gained 19,000 jobs in March and the construction unemployment rate fell to 11.3% (non-seasonally adjusted), according to the April 4 employment report by the U.S. Department of Labor (DOL). Nonresidential construction segments added 6,700 jobs in March, a marked improvement from the 2,800 jobs (revised) added in February. The improvement led the construction unemployment rate to fall from 12.8% in February 2014 and 14.7% in March 2013.
Construction Employment Sees Small Rise in February
The residential sector continued to build momentum, adding 9,100 jobs for the month. Heavy and civil engineering added 3,200 jobs in March and has added 22,100 jobs in the past 12 months.
"The 6,700 nonresidential construction jobs added in March demonstrate the growth we expect in the second quarter of 2014," said Associated Builders and Contractors Chief Economist Anirban Basu. "The colder than normal winter has been particularly cruel to the construction industry, and its departure should bring accelerated job growth.
Fannie May Expects Housing to Sprout as Harsh Winter Fades
"While it is promising to see the construction unemployment rate shed more than a full percent in March, it remains well above pre-recession levels," said Basu. "As spring finally settles in, the construction unemployment rate should return to the levels experienced in the third and fourth quarters of 2013 (approximately 9%)."
According to the Bureau of Labor Statistics' household survey, the national unemployment rate remained unchanged in March at 6.7% as the country added a total of 192,000 jobs. January and February's jobs reports also were revised upward by a combined 37,000 jobs.
"Although the unemployment rate remained unchanged in March, the labor force (those either employed or seeking employment) increased by 1.5 million in the first quarter of 2014 after falling by 500,000 in 2013," said Basu. "Gains to the labor force will, at least in the short term, apply upward pressure on the unemployment rate. That said, given the number of jobs created, upward revisions to prior months and expansion of the average workweek, today's jobs report should not be viewed as disappointing."
Nonresidential building construction employment grew by 2,200 jobs for the month and is up by 14,000 jobs (2.1%) since March 2013.
Residential building construction employment rose by 3,100 jobs in March and is up by 547,800 jobs (7.9%) since March 2013.
Nonresidential specialty trade contractors gained 4,500 jobs for the month and employment in that category is up by 12,700 jobs (0.6%) compared to the same time last year.
Residential specialty trade contractors gained 6,000 jobs in March and have added 55,200 jobs (3.6%) since March 2013.
The heavy and civil engineering construction segment gained 3,200 jobs in March and job totals are up by 22,100 (2.5%) compared to the same time last year.
To view the previous employment report, click here.