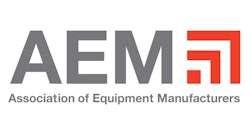 The Association of Equipment Manufacturers (AEM) announces the 2014 inductees into the AEM Hall of Fame, which recognizes and celebrates outstanding individuals in the off-road equipment industry and their legacy of innovation, service and leadership.
Their vision and hard work have been critical to advancing global economic and social prosperity; their legacy strengthens continued industry contributions to improving our quality of life, and serves as an inspiration for tomorrow's leaders.
The 2014 inductees into the AEM Hall of Fame are:
E.G. Melroe & the Melroe Family, Melroe Manufacturing & Bobcat Company
Agustin 'Gus' Ramirez, HUSCO International
Robert J. Ratliff, AGCO Corporation
John D. West, The Manitowoc Company
Rollin Henry White, Cleveland Tractor Company (Cletrac)
AEM Hall of Fame inductees have been evaluated by an independent panel of industry experts on five criteria that are vital to the health of the off-road equipment manufacturing industry: 1) innovation, 2) industry contributions, 3) leadership, 4) corporate citizenship/social responsibility and 5) sustainability.
For more information on the AEM Hall of Fame and all its inductees, go online to the AEM Hall of Fame section of the AEM website at www.aem.org/HallofFame.