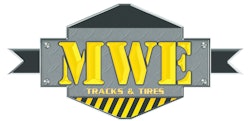 Midwest Equipment Sales (MWE) is relocating the company's primary facility in Ohio to a new 193,700 sq ft facility on the west side of Columbus. The new facility will allow MWE to expand the breadth and depth of its aftermarket tracks, tires and undercarriage parts inventory to meet the needs of its growing customer base. With this expansion and the company's two additional warehouses located in Dallas, Texas and Seattle, Wash., MWE customers can expect faster fill rates and better pricing as a result of the company's ability to acquire inventory in greater volume.

"Since opening our doors in 2007, we've been on a mission to provide our customers with the best possible products and service," says James Cline, president at MWE. "We've been able to continue to grow at a rapid rate because we listen to what our customers want and provide them with the widest range of products and parts for almost every make and model of compact equipment. And with our new massive warehouse, we are now the largest compact equipment track and tire distributor in North America."

MWE is the largest distributor of Camso (formerly Camoplast and Solideal) construction tracks and has a longstanding partnership with Bridgestone to distribute its rubber tracks. The company is also the fastest growing major distributor of Galaxy tires.

In addition to carrying all major manufacturer tracks and tires at its new facility, MWE also has its own line of solid rubber tires, which is popular among national equipment rental houses and dealers due to the tire's incredible performance characteristics and longevity. Manufactured with premium natural and synthetic rubber compounds for extended wear and durability, MWE Solid Rubber Tires provide optimal traction life while delivering a smooth ride. "We designed these tires to be the top performing tire in its class," adds Cline. "And, our tires will provide the lowest operating cost per hour."

The new MWE warehouse will be fully operational by August 1st, 2015. Equipment operators can learn more about the company's complete line of construction equipment products including rubber and steel tracks, over-the-tire tracks, hybrid tracks, bolt and clip on track pads, undercarriage components, and solid and pneumatic tires at www.tracksandtires.com.