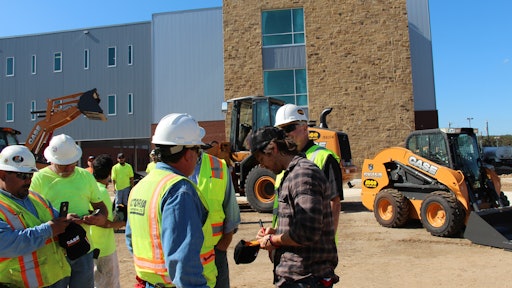 Multi-platinum country music star Kip Moore, and his partners at CASE Construction Equipment and ASCO Equipment, brought an army of food trucks to a construction site in San Antonio to treat the workers to lunch. The jobsite, operated by contractor Bartlett-Cocke, is a new high school in the Judson Independent School District (JISD) set to open in August 2016. Moore signed autographs and posed for pictures in addition to serving up free lunch to workers.
Moore performed that night at Cowboys Dancehall in San Antonio.
"I am continually grateful for my fans, who work hard all day like these men and women do and then come out to my concerts at night," says Moore. "I wanted to show a little token of my appreciation, and stopping by to have lunch with these guys was a blast."
Moore has partnered with CASE on numerous projects honoring construction workers and veterans, including the Labor of Love Music Festival, and the video for "On the Case" – a song dedicated to the men and women of the construction industry.
"Like Kip, our business and success is due to the work these men and women do every day," says Brian Weisbaum, dealer marketing manager, CASE Construction Equipment. "Working with ASCO to bring in the food trucks and serve these guys up a feast during the Thanksgiving season was our way of saying 'thanks'".
Kip Moore's sophomore album, "Wild Ones", is now available online and at major music outlets.